Thomas Sternberg, president of the ZDK council of German lay Catholics, told Sunday's convention wrap-up on Münster's main plaza that religion, when lived out properly, was the "motor of peace," not the cause of wars.
Leading German bishop Cardinal Reinhard Marx told the open-air Mass – while its offertory monies were collected for war-affected Syrians – that faced by the world's "inner turmoil" the globe needed "more hope," even a "surplus" of desire for peace.
The Münster convention, held under the motto "seek peace," had been told Friday by Chancellor Angela Merkel that multilateralism was "more pressing than ever," in the wake of US President Donald Trump's pullout from the 2015 Iran nuclear restraint deal.
Very diverse up to a point
Sternberg in a parallel interview Sunday said German Catholicism was "very, very" diverse and reached out to arch-conservatives, but warned that Christendom contradicted itself when it resorted to "Islamophobia, anti-Semitism, and exclusion of foreigners."
"These are things that don't go with Christians, full stop," he told the Catholic news agency KNA in a reference to organizers' reluctant inclusion in a Saturday debate of an opposition far-right AfD federal parliamentarian.
"Catholic women and men in this country know that piety and the shaping of the world belong together," Sternberg said, in a riposte to AfD spokesman Volker Münz, who said churches in Germany should not behave "like political parties."
That debate Saturday was loudly interrupted by protesters, with Left party spokeswoman Christine Buchholz warning against a "normalization of the stances of the AfD," which entered the Bundestag last September on 12.6 percent.
Dissent among bishops
That session Saturday had not been large and had been but one among many events on the convention program, said Sternberg, adding that his ZdK clearly did not concur with the policies of "an AfD that continues to radicalize itself."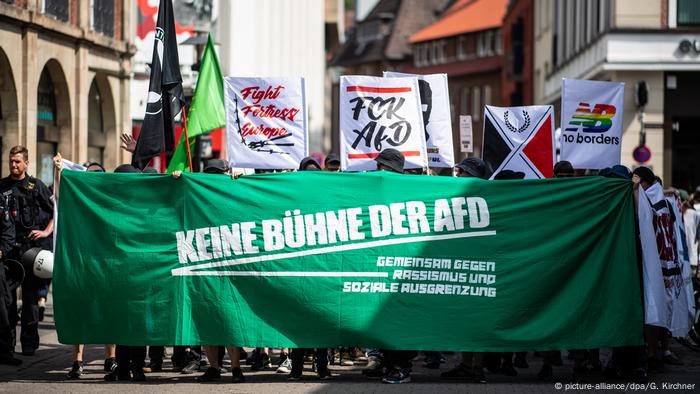 No podium for AfD, urged protesters
Discussion sessions Saturday also focused on a controversial Bavarian pre-election push to keep crosses hanging in public buildings — seen by some as a breach of Germany's secular constitution — and dissent among German Catholic bishops over the church's opening of communion rites to Protestant spouses of Catholics.
Long-standing calls that women be allowed to enter Catholic priesthood had also been reiterated by Annegret Kramp-Karrenbauer, the new general secretary of Merkel's governing Christian Democratic Union (CDU) party as the convention started last Wednesday.
The turnout in Münster of 25,000 day guests and 50,000 who over-nighted through the convention had set a new post-1990-German reunification record for the triennial convention, Sternberg said while acknowledging complaints about overcrowding.
"We could have filled the [discussion] halls three times over with the federal president [Frank-Walter Steinmeier], President [Juan Manuel] Santos and the chancellor."
"There are no more candles, not a thing," Sternberg added, referring to sell-out convention merchandizing.
Münster, where peace treaties were signed in 1648 to end Europe's religiously stoked Thirty Years' War, now hosts large Catholic and Protestant theological faculties and a recently established university center for Islamic studies.
Last year's Protestant congress in Berlin and Wittenberg focused on 500 years since Martin Luther initiated the Reformation.
Each evening at 1830 UTC, DW's editors send out a selection of the day's hard news and quality feature journalism. You can sign up to receive it directly here.
ipj/rc (dpa, KNA, epd)