The 62-year-old Helge Achenbach was sentenced to six years in prison after judges of the court in Essen on Monday found him guilty of cheating his wealthy customers.
Achenbach was considered the networking wizard and powerbroker of the German art scene until his arrest on June 10, 2014, when he was returning from Brazil after decorating the living quarters of the German football team with his choice of artworks. He has been in police detention since then.
Earlier in January, the regional court in Germany's western city Düsseldorf had found Achenbach guilty of overcharging his client, the late Berthold Albrecht, the heir of the Aldi supermarket chain.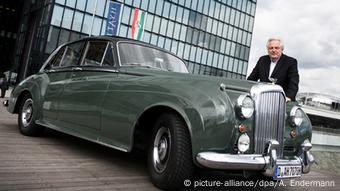 Achenbach drove a Bentley owned by German painter Joseph Beuys
Altogether, Albrecht paid about 97 million euros to Achenbach for paintings and cars, around 19 million euros too much, the court decided. The art dealer was then ordered to pay around 20 million euros in damages to the Albrecht family.
The family may however not receive the entire sum, since the art dealer's companies have been declared insolvent. Liquidators say that Achenbach, known for his extravagant lifestyle and talent to discover new artists, can barely raise six million euros from his present art collection to compensate the Albrechts.
mg/rc (dpa, AFP)