Schröder became the country's second chancellor after Helmut Kohl (1982-1998) to be honored with the "Zapfenstreich," the highest of the Bundeswehr's tributes, which draws on 19th-century Prussian military traditions.
About 600 people, including Schröder's wife and his mother, attended the ceremony in the city hall gardens of Hanover, where Schröder lives.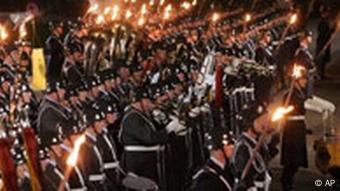 The army played some of Schröder's favorite songs
Tears came to the chancellor's eyes when army bands played his musical picks -- Frank Sinatra's "My Way" and George Gershwin's "Summertime" -- pieces that were less conventional than those of his predecessor in 1998.
At a demonstration 500 metres away, people protested against Berlin's decision to sell 298 combat tanks to Turkey.
Last speech
Before the parade, Schröder gave his final official speech as government leader to a conference of workers' mutual funds in the city, saying he expected the coalition of his center-left Social Democrats and centre-right Christian Democrats to demonstrate "a lot of continuity" in the key areas of social and foreign policy.
"A sovereign nation's self-confidence will not disappear again," he said, referring to Germany's standing up to its long-time ally and protector, the United States, regarding the war in Iraq, which Berlin has vocally opposed.
"We did not hesitate when solidarity was required," he said in reference to the period after the Sept. 11, 2001 terrorist attacks in the US. "but with Iraq, we said 'We are not convinced of the reasons for starting this war.'"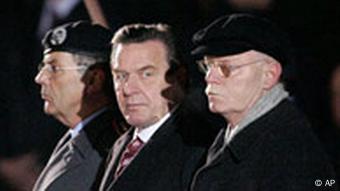 Schröder, flanked by the defense minister and the military's chief of staff
Schröder's record in office has come in for some criticism in the media and by political opponents, who accuse him of causing divisions on the left and for charting a zigzag policy course. But President Horst Köhler, a member of the Christian Democrats, had a more positive assessment.
"With a high degree of courage and determination, Schröder designed the 'Agenda 2010' reforms," he said in a newspaper interview, referring to the program of labor market and welfare reformed designed to boost the economy. "He pushed them through for the good of Germany despite enormous resistance in his party."
After seven years in power at the head of a coalition with the Green party, Schröder, 61, will hand over to Merkel on Tuesday. After three decades in politics, Schröder has said he wants to work again as a lawyer and has declined any leadership role in the his party, although he will remain in parliament for now as an ordinary deputy.
Life after the chancellery?
He has remained vague about what he will do after he officially leaves office, but he appears to have many options.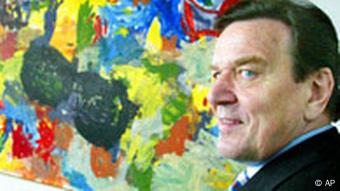 Schröder at a 2003 art exhibition in the Berlin chancellery
Artist, New York banker, lobbyist, political consultant, corporate executive, or newspaper publisher are just some of the avenues he is said to be considering, according to media reports and people who know him.
"I'm a free man in a free world," he joked in English earlier this month on the sidelines of a Social Democrats (SPD) congress in Karlsruhe, where he said to the party he led into government in 1998 after 16 years in opposition.
There has been speculation that Schröder might make a move to New York. In a 2003 interview with Reuters before a trip there, he said he would like to get to know the city better. He had been invited to New York by Citigroup Chairman Sandy Weill at a time when President George W. Bush would not even take Schröder's calls because of his outspoken opposition to the war in Iraq.
"My wife lived there for several years and loves the city," Schröder, who is now taking English language lessons, said. "Our daughter was born there and that obviously creates emotional ties. There's such a vitality in New York."