German air traffic controllers have called off a strike planned for Tuesday, after employers agreed to settle a dispute with unions through a process of arbitration.
The German agency responsible for air traffic, DFS, initiated an arbitration process with the union over employees' demands for wage hikes.
The surprise move by DFS followed a court judgment Monday that ruled the strike, which had been due to begin at 6 a.m. local time the following day, did not break the law.
The Trade Union of Air Traffic Controllers (GDF) was forced to cancel a strike last Wednesday after the action was banned by a labor court in Frankfurt.
Major delays had been anticipated on Tuesday, if the strike had gone ahead.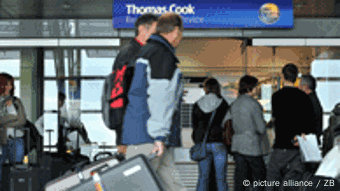 There was relief for travelers last week as a court ruled the strike illegal
German airline and tourism industries had been sharply critical of the timing of the strike. German Transport Minister Peter Ramsauer said he did not understand the need for a strike to take place during the holiday period.
"Nobody is saying they do not have a responsible job, but they are well-paid for it," Ramsauer added, citing 120,000 euros ($170,000) as a typical salary.
Failed negotiations
In past weeks the GDF has rejected renewed direct talks, having been unable to secure a better offer from DFS. Management has offered the union a settlement of 4.1 percent, which they declined.
The GDF, which represents more than 3,000 of Germany's 5,500 air traffic controllers, is demanding a 6.5 percent wage increase and wants pay to be linked to length of service.
Author: Sarah Harman, Richard Connor (AFP, dpa, dapd)
Editor: Nancy Isenson