More than 400 people have died in Bosnian minefields since the end of the war. Making the country mine-free is a difficult and time-consuming job that requires significant funds in addition to the technological know-how. In an attempt to help Bosnia in the demining process, Germany has pledged 1.7 million euros ($2 million) in aid for minesweeping in 35 locations across the country
"Our embassy participated in choosing the locations, and the tendering process is now taking place," said Detlev Rüngner of the German Foreign Ministry.
"The tender will hopefully result in most of these areas being demined by a qualified company in the course of this year," Rüngner said.
German companies will also be able to bid for the job.
"They will participate in the tender and be able to join other partners that are active in the region. Hopefully, their tender will be accepted," Rüngner said.
A threat to the population and its economy
Thanks to the help of the German government, which is one of the most important donor countries in Bosnia and Herzegovina, large minefields will be cleared beginning this summer. Around 2,000 square kilometers of land in Bosnia and Herzegovina -- two million square meters -- is abandoned and unusable because of existing mines. As much as they are a threat to human lives, landmines are responsible for significant economic losses in this country which is still struggling to recover from war.
Dorian Marsic, Director of the International Trust Fund for Demining and Mine Victims Assistance (ITF), said that around one quarter of mined territories could be cleared thanks with German funds.
"Currently, we could sweep around 527,000 square meters of land," Marsic said.
Reminders of the war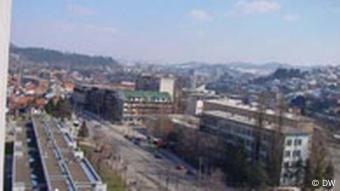 The area around the city of Tuzla is particularly affected by landmines
The cantons of Sarajevo and Tuzla are particularly affected by mine fields, according to Marsic, but so are border areas around Brcko and Mostar, as well as numerous mine fields in Bihac, Gorazde and other towns.
"Minefields exist everywhere where the fighting took place and where enemy forces had their posts," said Marsic.
The German government is dedicated to helping Bosnia and Herzegovina overcome the consequences of the war. According to Rünger, the German engagement in the region will remain at a high level.
"We will continue to finance projects there, the way we have been doing it since 1997. In this country alone, that has amounted to some eight million euros of support so far," Rünger said.