Christiane Völling, who works as a nurse in Düsseldorf, sued the doctor who removed her fully-intact female internal organs 30 years ago, when she was 18 years old.
She sought 100,000 euros ($148,000) in damages for pain and suffering, claiming the surgeon failed to inform her about the full extent of the consequences of the operation or about possible alternatives.
The court decided in Völling's favor, although the amount the surgeon will have to pay will be decided in a future trial.
Assigned a gender at birth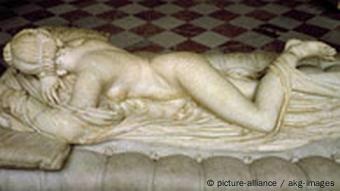 Gender lines have been blured since antiquity as this statue of Hermaphrodite shows
Völling was born with indeterminate external genitalia due to an unusual hormonal condition, and was raised as a boy -- common practice in dealing with intersex babies at the time.
By the time she discovered that she was biologically female, Völling said, her ovaries and uterus had been removed, making it impossible for her to live as a woman.
Völlmer called court's the ruling an "enormous relief" and spoke of "moral reparations," DPA news service reported.
Gender-rights activists were hoping the lawsuit would set a precedent in legal cases brought by intersexuals who may have wrongly undergone sexual-assignment surgery.
In his verdict, Cologne Justice Dietmar Reiprich said the surgeon who performed the operation in 1977 had acted illegally. Despite some unique difficulties of the case, the judge said that ultimately "this invasive procedure should not have been performed without a full explanation."
Surprise on the operating table
A decisive factor in the case was that going into the operation, everyone assumed Völling was a hermaphrodite, with two sets of sex organs, the judge said. But when she was opened up on the operating table, the surgeon found no male gender organs. Instead he found an intact, normal-sized set of ovaries and a uterus -- which he set about removing.
According to the court, the doctors present and the surgeon in charge should have immediately sewn the patient up and discussed the discovery with her in detail instead of covering up the findings
After the decision, Völling said she thought the case would send a positive signal for other victims of similar medical acts. The decision proved "medical bungling," she said.