The European Space Agency (Esa) confirmed on Saturday that the two latest satellites to be sent in to space as part of the Galileo programme to create Europe's version of the American GPS satellite navigation system have failed to reach their intended orbit.
The Esa is now examining the implications of the anomaly but says the fifth and sixth of 30 planned satellites launched from French Guiana on Friday are under control.
According to reports from the AFP news agency, manufacturer Arianespace declined to comment on whether the trajectories could be corrected.
The two latest satellites, Doresa and Milena, were initially planned to be sent into space on Wednesday. However, bad weather conditions caused the launch to be rescheduled.
Europes's answer to GPS
The next two satellites are set to be launched later this year, with hopes of the program developing faster from next year when European Ariane rockets will become available to transport the satellites, as opposed to the Russian Soyuz launchers which are currently in use.
"Observations taken after the separation of the satellites from the Soyuz VS09 (rocket) for the Galileo Mission show a gap between the orbit achieved and that which was planned," Arianespace said in a statement.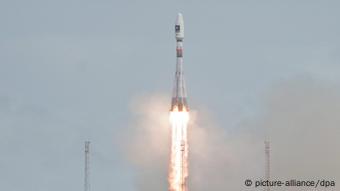 The fifth and sixth satellites were launched in French Guiana on Friday
"They have been placed on a lower orbit than expected. Teams are studying the impact this could have on the satellites," the statement added.
The Galileo constellation is designed to provide an alternative to the US Global Positioning System (GPS) and Russia's Glonass system.
"With two additional satellites in orbit, Galileo is moving closer to the provision of early services in the course of next year," said the EU's digital agenda commissioner, Neelie Kroes.
"This will be to the benefit of EU companies, international partners and also European citizens," she added.
Disagreements
Amongst other things, the early version will aim to provide apps for smartphones and in-car navigations systems from 2015.
The project was due to begin in 2008 but has faced numerous setbacks, largely due to disagreements between the participating countries, which delayed the launch of the first four satellites until 2011 and 2012.
According to the European Commission, the EU will spend around seven billion euros (9.3 billion dollars) on satellite navigation between now and 2020.
ksb/shs (AFP, dpa)