Slovak Premier Mikulas Dzurinda of the conservative Christian and Democratic Union (SDKU) is proud of his reforms, which have led some to dub the country the "Tatra Tiger" after the local Tatra mountain range. He's also convinced that the worst is over in terms of reforms.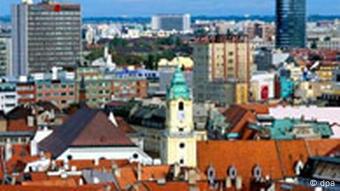 Slovakia's capital Bratislava
"We don't need to tighten the belt any further," he said during a campaign rally in the small town of Zvolen. "Because we're already out of the woods and the painful reforms lay behind us, we can now focus on the goal to catch up with the most advanced countries in Europe in the next years."
Dzurinda's announcement that he won't call for further sacrifices has taken the wind out of the sails of many of his critics. His "flat tax" -- a universal tax rate of 19 percent that was meant to attract foreign investors-- has brought his center-right coalition in the limelight. The plan worked: many, especially carmakers such as VW, Peugeot and Kia, have discovered the land between the Danube river and the Tara mountains as a place to do business.
Re-election far from certain
Despite this, Dzurinda's re-election is far from certain, but the 53-year-old does not seem too worried.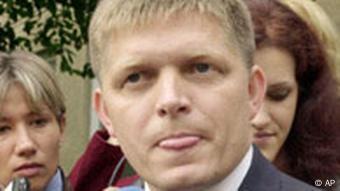 Robert Fico
"It's like going to the doctor," he said. "If you're really sick and need a shot, you're not very happy. But your brain tells you that you have to endure it and that it's in your own interest."
Dzurinda's challenger, Robert Fico, sees things differently. The candidate of the left-wing Smer (Direction) party and clear opinion poll leader propagates a "third way" for his country. About 30 percent of voters seem ready to back the 41-year-old's campaign to bring "order, justice and a decent life" to Slovakia.
Demanding too much?

Fico claims that the tax and labor market reforms as well as changes to the country's pension and health systems have demanded too much from the people. He also says that rather than the reforms, Slovakia's highly skilled workforce and low wages are responsible for an economic growth rate of about 7 percent.
He has promised to revise the tax reform and adjust it to the needs of poorer sections of the population. And while Fico accuses his rivals of illegal campaign financing, it is also unclear who is backing his efforts.
"He tries to push through truly populist policies and only gives vague answers to questions about his party's platform," said Miroslav Kusy, a political scientist.
A need for compromise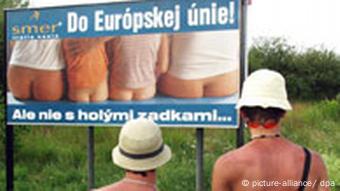 "Let's join the EU, but not with bare bottoms," read this 2002 election campaign poster from Fico's Smer party
Unlike four years ago, when EU membership was the hot topic, domestic politics have dominated this campaign. Another focus has been preventing former Premier Vladimir Meciar, who isolated his country during the first five years of independence, from returning to office.
"Neither he nor his party pose a threat today," said Rastislav Toth, a political scientist. Only about 10 percent of voters are expected to back Meciar and his Movement for a Democratic Slovakia (HZDS).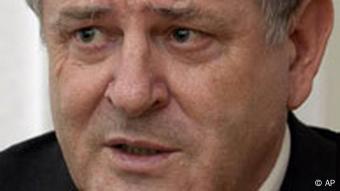 Vladimir Meciar
But Meciar's party is flexible enough to join a future government coalition -- something that's required of most parties as a coalition of several political forces is highly likely. Moderating between reform backers and those who oppose them will be the most difficult task, accordinng to experts. Even Smer advisors are convinced that the reforms were necessary. They just say that some of them have to be softened.
"Slovak society is in its majority not against reforms," said Olga Gyarfasova, a pollster. "Generally speaking, there's no interest in starting over -- as if to say that the worst is over and we don't want to revisit the beginning."