A shallow magnitude 6.9 quake hit Indonesia's remote Lombok Island just after 10 p.m. local time Sunday (1500 UTC), causing a number of landslides and panic in some villages. It was followed by multiple aftershocks. At least five people are believed to have died.
Earlier on Sunday a 6.3 quake caused landslides and damaged buildings.
The US Geological Survey said the first jolt was centered in the northeast of the island at a relatively shallow depth of 7 kilometers (4 miles). The second was also relatively shallow and centered about five kilometers south of Belanting town.
Patients in a hospital on the island of Sumbawa, 10 kilometers to the east of Lombok were evacuated for fear the building would collapse.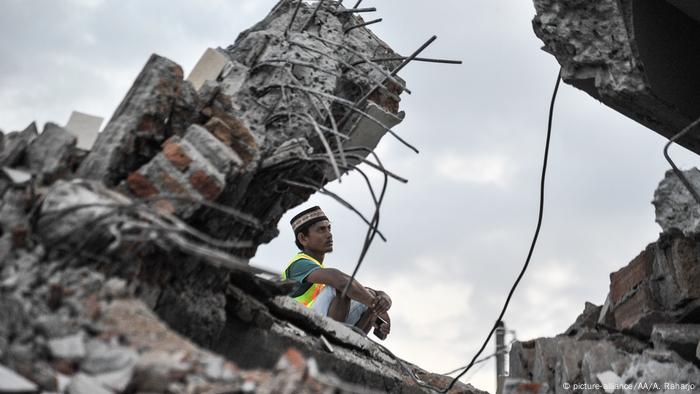 Earthquake damage in Pamenang village, North Lombok
Weakened hall collapses, landslides
"The [first] earthquake caused people to panic and flee their houses," said Sutopo Purwo Nugroho, a spokesman for Indonesia's national disaster agency, told Metro TV. "We are still checking."
He said a community hall damaged by earlier jolts in Lombok's Sembalun subdistrict had collapsed.
Video shot by the Indonesian Red Cross showed huge clouds of dust billowing Sunday from the slopes of Mount Rinjani, an active volcano.
Woken by 'incredible' jolt
"The earthquake was incredibly strong. Everything was shaking," said local resident Agus Salim, who had been sleeping in an evacuation tent.
"I had just fallen asleep when suddenly it started to shake... Everyone ran into the street screaming and crying," he said, adding that a power blackout followed.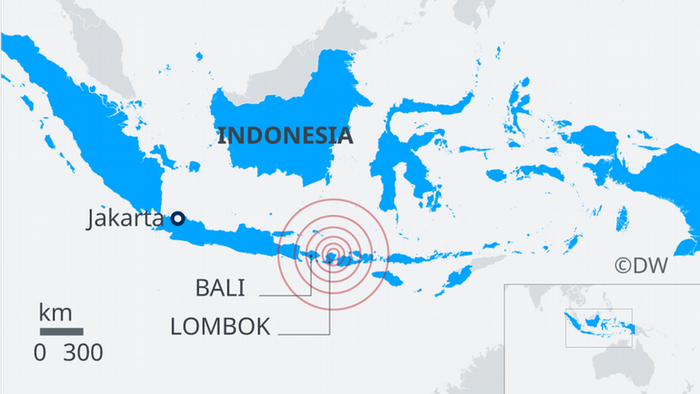 A map showing the reach of the Lombok earthquake
Earthquake-prone region
The island, which is just east of Bali, has been hit by a number of quakes and aftershocks since July 29.
A magnitude 7.0 earthquake on August 5 killed 460, flattened tens of thousands of homes and displaced several hundred thousand people.
Damage from the earthquake has been estimated at least 5 trillion rupiah (€300 million, $343 million).
Indonesia, an archipelago of thousands of islands, straddles the Pacific "Ring of Fire" and is prone to earthquakes and volcanic eruptions.
Massive earthquake off Fiji
Also on Sunday, a massive magnitude 8.2 earthquake struck in the Pacific Ocean near Fiji and Tonga, which are also on the "Ring of Fire."
The US Geological Survey said the quake hit 361 kilometers (224 miles) east of Fiji's capital, Suva, at a depth of 563 kilometers.
The Fijian government's Seismology Unit issued a statement saying that the earthquake did "not pose any immediate threat to the Fiji region due to its deep depth."
Read more: Ring of Fire: Five facts about the most earthquake-prone region in the world
tj,jm/aw (AP, AFP, Reuters)
Each evening at 1830 UTC, DW's editors send out a selection of the day's hard news and quality feature journalism. You can sign up to receive it directly here.