Youths in Paris suburbs and the southern city of Toulouse torched several cars and set trash cans on fire during a third night of violence late Tuesday. Officials reported, however, there were no major clashes between youths and police, who were out in large numbers.
On Wednesday, after returning to France from a trip to China, French President Nicolas Sarkozy visited a senior police officer being treated for serious injuries in a hospital in the Paris suburb of Eaubonne after he was attacked at the start of violence on Sunday.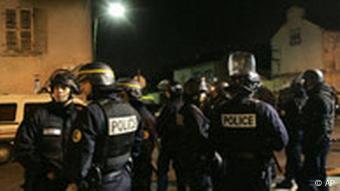 Riot policemen came out in full force in Villiers-le-Bel Tuesday evening
"So that things are very clear: What has happened is absolutely unacceptable," Sarkozy said after meeting with the wounded police captain, according to the Associated Press.
He called the incident that triggered the violence -- the death of two teens on a motorbike Sunday in an accident with a police car in the Paris suburb of Villiers-le-Bel -- as "distressing," but also said that "shooting at police has no link to this incident."
Sarkozy also met with dead teens' families
Sarkozy also met on Wednesday with the parents of the two teenagers whose deaths set off the riots.
Some 800 police officers had been sent to the suburb and neighboring communities after more than 130 riot police were injured Sunday and Monday in clashes with groups of youths. The rioters hurled stones and Molotov cocktails and fired rifles at police.
Some 100 cars and around a dozen buildings were also set ablaze in the violence.
There were reports of scattered unrest in Villiers-le-Bel and nearby Goussaiville late Tuesday, as reported by the DPA news agency, with about 20 cars and numerous trash cans set on fire, but there were no clashes, nor reports of injuries. However, at least 18 people were arrested.
Taking the tough approach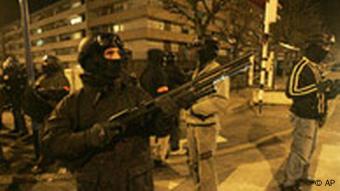 France's government said it would fight rioters with might
Sarkozy has vowed to bring to justice rioters who had shot at police. He is known for his tough, law-and-order policies while interior minister during riots two years ago.
"We will find the shooters," he said, according to Reuters. "We will put in the necessary resources ... It is not something that we can tolerate, no matter how dramatic the deaths of these two youngsters on a motorbike may be.
"Those who take it upon themselves to shoot at police will find themselves in the Assizes Court," Sarkozy said, referring to France's criminal courts, before adding that shooting at police "has a name -- attempted murder."
Sarkozy is to hold crisis talks with ministers on Wednesday to try to find a way to stop the violence in the poor, ethnically diverse suburbs.
Violence reminiscent of 2005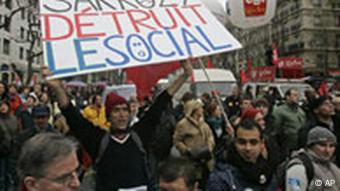 Civil servants expressed their dissatisfaction during recent strikes
Residents in the suburbs have blamed Sarkozy for inflaming tensions with his tough line as interior minister during riots two years ago.
Many blame high unemployment, inadequate schools, poor relations with police, insufficient housing and new immigration laws have all contributed to the tensions, and have created a generation of frustrated youths living in rundown areas.
The current violence is reminiscent of the riots in 2005, when thousands of cars were torched after two teenagers were electrocuted in a power sub-station after hiding from police.