A thriller about about a group of traumatizied Sri Lankan refugees trying to build new lives bagged the top prize at the 2015 Cannes Film Festival on Sunday. "Dheepan" by French director Jacques Audiard (pictured above) was handed the Palme d'Or from a jury led by American filmmaking duo Joel and Ethan Coen.
"To receive a prize from the Coen brothers is something pretty exceptional," Audiard said, clutching the trophy, "I'm very touched."
Audiard also jokingly thanked Michael Haneke for not having made a film, referencing the fact that the Austrian director has beaten him twice for the prize - in 2009 with "The White Ribbon" and 2012 with "Amour."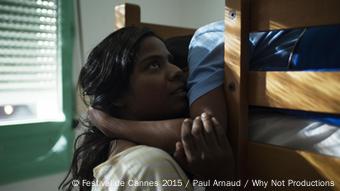 "Dheepan" beat out 19 other films from all over the world to claim the Palme d'Or.
"Dheepan" centers around an ex-child soldier from Sri Lanka's Tamil Tigers rebel army, who along with two strangers - a woman and a girl - pretend to be a family in order to gain asylum in France. The actor who plays the protagonist, Antonythasan Jesuthasan, was himself a member of the Tamil Tigers when he was 16 before fleeing to France on a fake passport.
Harrowing Holocaust story comes in second, tie for best actress
Holocaust drama "Son of Saul" from Hungarian director Laszlo Nemes took the runner-up Grand Prix. The film was praised for its unflinching portrayal of the Nazi death machine.
"This continent is still haunted by this subject," Nemes said as he accepted his award.
The third-place Jury Prize went to the quirky black comedy "The Lobster," the first English-language film by Greek director Yorgos Lantimos, and starring Colin Farrell and Rachel Weisz. "The Lobster" takes place in a surreal future where lonely people have 45 days to go to a hotel and find a mate, or else they are transformed into animals.
Hou Hsiao-hsien of Taiwan clinched the best director award for his slow-burning period piece "The Assassin," which features a female assassin sent on a mission to kill the governor of her home province, whom she is in love with.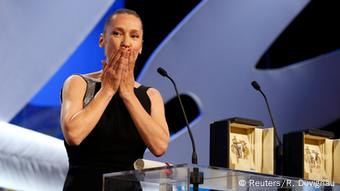 Emmanuelle Bercot was directed in "Mon roi" by fellow actress-turned-filmmaker Maiwenn.
The jury gave the best actress trophy to two winners, American star Rooney Mara for the 1950s lesbian love story "Carol" which co-stars Cate Blanchett, and France's Emmanuelle Bercot in the romance "Mon roi" (My King). "I am thrilled to share this with another actress because it's a bit too big for me to carry alone," said Bercot, who also directed "Standing Tall", a social drama which opened the festival.
The best actor award also went to a Frenchman, Vincent Landon, who won for his role as a job seeker trying to make ends meet in "The Measure of a Man."
Mexican director Michel Franco scooped the best screenplay trophy for "Chronic," the tale of a palliative care nurse played by Tim Roth, who handed the award to Franco.
es/bw (AP, AFP, dpa)