The Paris prosecutor's office announced on Friday that it had stopped investigating claims that Budget Minister Gerald Darmanin had raped a woman some 10 years prior in exchange for helping her clear her criminal record.
A preliminary probe could not establish "the absence of consent on the part of the plaintiff" or that she was acting "under constraint, threat, surprise or any sort of violence towards her," the office said.
The rape accusation, which coincided with similar claims of sexual harassment and assault against men in positions of power in politics, media and beyond, had led to a fury of defense for the rising political star from the other cabinet members.
Opened, closed, re-opened, dropped
Plaintiff Sophie Spatz originally filed her complaint against Darmanin last year but then failed to appear for questioning. The case was re-opened in mid-January after she renewed her complaint.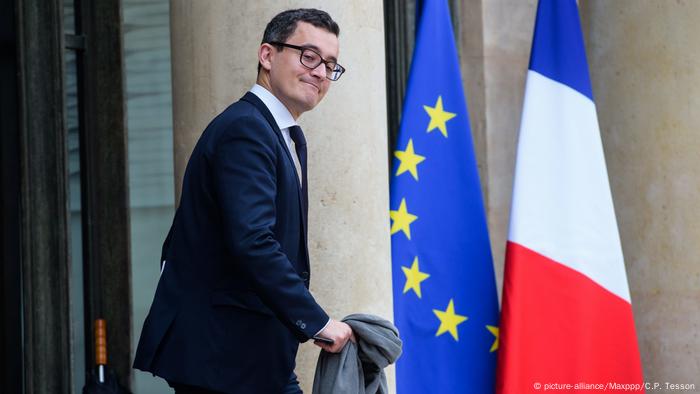 Darmanin has said he will sue Spatz for slander
Darmanin denied the rape allegations, calling them "slanderous," while admitting that he had a reputation for flirting and sending "a few persistent text messages." The minister would sue Spatz for slander, his lawyers said.
Earlier this week, French newspaper Le Point reported that a second woman had accused Darmanin of using his former political position to extract sexual favors. The allegations date to the minister's time as mayor of the northern French city Tourcoing from 2014 to 2017.
"Various investigations still need to be undertaken" in this case, the prosecutor's office said Friday.
The minister has denied these claims.
Defense for a young politician
Born into a working-class family, the 35-year-old Darmanin had been a member of the conservative Republican ("Les Republicains") party before being expelled for joining Macron's En Marche movement. Darmanin has served as the Minister of Public Action and Accounts since being appointed by President Emmanuel Macron in May 2017.
After Spatz's rape claims came to light, members of the French government rallied around the young minister. Prime Minister Edouard Philippe said that Dermanin still had his "full confidence."
Another member of Philippe's government, Environment Minister Nicolas Hulot, faced allegations last week that he had sexually assaulted two women.
cmb/kms (AFP, EFE)
Every evening at 1830 UTC, DW's editors send out a selection of the day's hard news and quality feature journalism. You can sign up to receive it directly here.