In a joint column posted on the Web site of French newspaper Le Monde on Tuesday, German Chancellor Angela Merkel and French President Nicolas Sarkozy said the US and Europe needed to deepen cooperation on security and strategic issues.
"Unilateral decision-making would contradict the new spirit of our relations," Merkel and Sarkozy wrote, in a veiled reference to the policies of former US President George W. Bush.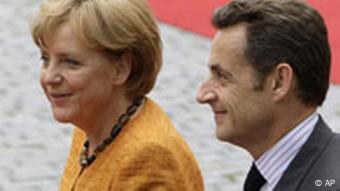 Relations between Merkel and Sarkozy have sometimes been strained but the two seem to agree on the need for deeper transatlantic cooperation
"No country today is capable of resolving all the problems of the world ... In light of the current challenges, Europe needs the United States and the United States need a strong European partner," they said. The two called on US President Barack Obama to usher in a new era of transatlantic cooperation.
At the same time, the two leaders admitted that the European Union needed to speak with a stronger and more united voice if it was to be an effective partner of the US.
Leaders call for new NATO strategy
Their comments came as President Obama has vowed to engage more closely with the US' allies and European diplomats began getting to know their new American counterparts.
On Tuesday, Germany and Britain's foreign ministers were in Washington to meet US Secretary of State Hillary Clinton.
Later this week, US Vice President Joe Biden is set to fly to Munich for an annual high-profile security conference that draws military experts and government leaders from all over the world.
Sarkozy and Merkel said Europe and the United States must broaden the scope of their cooperation at a time when security is closely intertwined with most of the pressing global problems.
"As well as strictly military issues, (a concerted security policy) must take into account the international financial situation, energy supplies and migration issues," they said.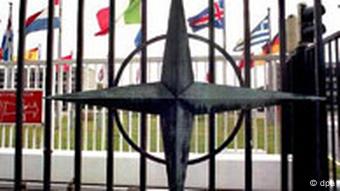 The leaders of France and Sarkozy have called for a major rehaul of NATO
The two leaders said they hoped a NATO summit scheduled for April would lead to more progress on transatlantic security and arms-control issues.
"We greatly regret that the 'strategic partnership' between NATO and the EU has not met our expectations, because of persistent disagreements between certain nations," Merkel and Sarkozy said. "We think that has to change."
The two also said they hoped the US would expand efforts to fashion a completely new NATO strategy, rehauling the defense alliance into a global security agency.
The leaders singled out NATO's engagement in Afghanistan, saying a "strong signal" was needed that it will continue to stay involved there.
"We know that the reinforcement of democracy must accompany the military effort. Political approaches must be debated with our partners from the Alliance," they said.
Iran, Russia and arms-control
The column touched on Iran and its uranium enrichment program which the West believes is being used to produce nuclear weapons and a new policy by Obama to open direct talks with Tehran. The two leaders said diplomacy was the only way to solve the conflict but warned that they could not accept an "Iranian bomb."
Relations with Russia, strained by the conflict in Georgia last year and a damaging gas dispute with Ukraine earlier this year and a possible reconciliation between Washington and Moscow, welcomed by Sarkozy and Merkel, was also mentioned.
Sarkozy and Merkel also urged a new round of talks to push arms-control and non-proliferation but said they remained committed to the idea of a nuclear deterrent.