Born millennia apart, King Ashurbanipal of Assyria and the contemporary literary journal, Banipal, have more in common than their names. Just like the 7th century monarch, who collected texts from across the neo-Assyrian empire to create the first library in the ancient Middle East, the UK-based publication compiles contemporary writing from all over the Arab world - albeit in English translation.
I came across Banipal at the International Literary Festival Berlin (ilb), where its founders, Samuel Shimon and Margaret Obank, were talking about their efforts to make Arab literature accessible to the wider world. Their new magazine, Kikah,translates the other direction, aiming to introduce readers in the Middle East to uncensored, high-quality Arabic translations of international literature.
In its blurb about the Banipaland Kikahevent, the ilb program referred to the West's "rudimentary knowledge of the Arab world," claiming that only three percent of books published in the US are translations from other languages. Three percent? That seemed too meager to be true. But further research supports the claim, and what's more, the scenario is repeated in the UK.
Publishing agenda
Given the region's size, geopolitical importance, cultural and historical wealth, there is something wholly misaligned about that figure. The Arab world is not, after all, a place where nothing ever happens, where life is not lived, where writers are not born, where language is in short supply, or where impressions are not formed. But as journal co-founder Samuel Shimon explained, authors in the Arab world must tally with preconceived ideas in order to be of any interest to Western publishers.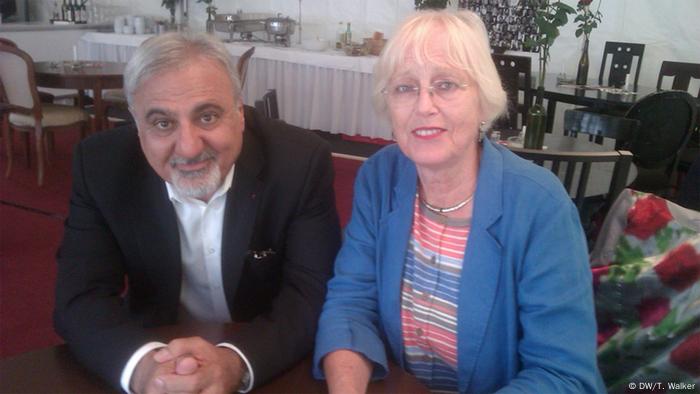 Banipal founders Samuel Shimon und Margaret Obank seek to link Arab authors with a Western audience
"When it comes to the Arab world, publishers in the West generally have an agenda," he said. "If you tell them you have a good, beautiful and well-written, imaginative novel, they don't care. They want the subject to be something that suits them - Islam or Arab women talking about domestic violence."
Margaret Obank, who was drawn to learn more about the Arab world around the time of the first Gulf War, says the problem is that people only know what the media tells them about the region.
"And that goes for publishers too," she said. "They see it as a place of turmoil, in a state of complete uproar and somewhere that lacks democracy. So they are looking for authors who can give some political outlook on the situation."
And as valid as those works may be, concentrating on them doesn't only mean many fine writers from the region are left in the cold, but that millions of potential readers are deprived of an insight into the nuance and texture of the media-maligned region.
New perspectives
Berlin-based, Iraqi-born writer Hussain Al-Mozany stresses the role of fiction in our understanding of a place. "Literature is deeper and more interesting than what the media tells us. What has changed in reports from Iraq over the past ten years?" he asked. "Nothing, except the numbers of those killed."
Literature, however, he describes as an aesthetic pleasure that tries to present an honest, detailed picture of the way things are.
A belief in writing and writers from the Arab world and a desire to keep showcasing that belief has kept Banipalgoing for the past 16 years. And it is hard, when listening to Samuel, a novelist himself, not to be captivated. With an enthusiasm carried on the rising octave of his voice, he tells me about the latest edition of Banipal, which features 17 authors from Kuwait. "They are good, everyone knows it," he said. "They deserve to be published."
One of the authors appearing at this year's ilb is Kuwaiti Saud Alsanousi. His book, "The Bamboo Stalk," which deals with the issue of foreign guest workers in Arab countries, is the winner of the 2013 International Prize for Arabic Fiction, of which Margaret Obank was a founding trustee. The idea behind what is now recognized as the Arab version of the Booker Prize was to help promote contemporary Arab literature to Western countries.
So how effective has it been? Margaret says the situation has changed a lot over the past 10 years. Since the Banipal's inception, 40 featured writers have been translated for Western audiences. That said, there is still a long way to go.
Changing temperatures
After the discussion, I was invited to join Samuel and Margaret, their friends and some writers they've published for a drink and chat. The atmosphere they created was one of warmth and laughter, alive with anecdotes, observations, and ideas. I left before night turned the corner back to day, and on my way home became so engrossed in the work of another Berlin-based Iraqi writer, Fadhil Al-Azzawi, that I managed to get off the train at the wrong stop. I carried on reading.
"It was not easy for me to give up my place in the corner of the cell, which I had bought years ago from another prisoner. It was a wonderful corner; I could lean my shoulder against the wall and recall all the events of my life, as though I was sitting in a theatre and watching actors on the stage, old and young, performing their role in the comedy of my life."
At that point, a woman came and sat down beside me. "It's warm," she said. I agreed, not sure whether it was the result of the weather or the residue of an evening in good company. Regardless, we were soon embedded in a conversation about her Algerian heritage, about books and writing from the Arab world. I showed her what I was reading. She made a note and a promise to get herself a copy of "Kikah," then smilingly went on her way.
When I boarded my own train a few minutes later, the warmth left me. Across the aisle were three men with shaved heads, bomber jackets and the kind of laughter that is infused with a threatening edge. Surreptitiously watching them and the swastika tattoos pulsate over the veins in their necks, I felt a shudder run through me. But I also felt sadness, because their insignia spoke a thousand words, a thousand words that mean they will miss out on the thousands more that could be so much more enriching. So much more deserving.