It was only ten years ago that Fortuna Düsseldorf was playing in Germany's fourth-tier upper league. Back then, the team was in sporting and financial chaos. More than four million euros ($4.9 million) in debt were weighing the team down. Fortuna was down, but they weren't out, and they've since managed a minor miracle: success is back the in the state capital of North Rhine Westphalia, and the millions in debt were paid off - today the team is back in the black.
Starting from the regional league (now the fourth division after a restructuring in 2008) it only took Fortuna five years to regain a place among the crème de la crème of German football, and fans are anxiously awaiting the team's first Bundesliga season since 1997.
A new challenge: fighting relegation
Coach Norbert Meier, who has been with the team since 2008, has his work cut out for him this season. Players like Sasch Rösler, Maximilian Beister or the defensive specialist Assani Lukimya, who were essential in gaining promotion to the Bundesliga last year, are no longer with the team. Twenty-four of Fortuna's goals from last season can be chalked up to Rösler and Beister.
Meier had to start fresh this season, and his 18 new players even trumps the record number of transfers set by Wolfsburg coach Felix Magath, who is known to wheel and deal extensively in the off-season.
But despite the shopping spree, Fortuna kept its spending very much under control, investing just 2.1 million euros in new players.
"We're not going to abandon our method of solid and reputable economic operations," said the team's president, Peter Frymuth.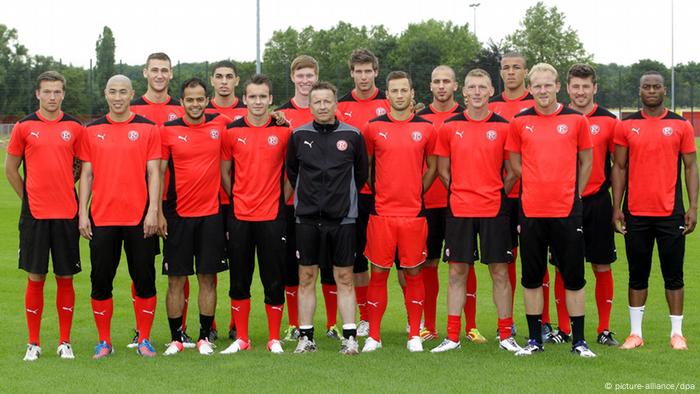 The new squad will need to find their footing quickly in the Bundesliga
The task of scoring the goals for Fortuna in the coming season goes to one of those 18 transfers, Ukrainian national-team striker Andriy Voronin. Joining him are experienced players such as Nando Rafael and Axel Bellinghausen (both from FC Augsburg), Du-Ri Cha (Celtic Glasgow), and Stefan Reisinger (SC Freiburg) who share the same goal.
"I've never played in a relegation fight before and I don't ever want to," said Voronin. "All the teams start at zero, and we have to give it our best."
A Lumpi record
Despite the many faces at Fortuna Düsseldorf, there is one man who is as familiar as the Rhine River flowing through the city: the team's 27-year-old captain, Anreas "Lumpi" Lambertz. The midfielder has been with the club since 2003 and has developed into a cult icon in Düsseldorf for his fighting spirit.
With Düsseldorf's promotion, Lambertz has also made it into the German history books. He's the first player to stay with the same team through promotion from the upper league all the way up to the Bundesliga - a total of four promotions given that the team had to also clear the third league, which was created in 2008.
Meier knows what he can expect from his dedicated captain, and he's got another pair of hard-working options in Axel Bellinghausen and defender Jens Langeneke.
"I'm all about honest work," said 29-year-old Bellinghausen, confidently adding "I can still fly back and forth from one end of the pitch to the other just like I could 8 years ago."
He's another fan-favorite and is beginning his second stint in Düsseldorf. The first was from 1998 to 2005.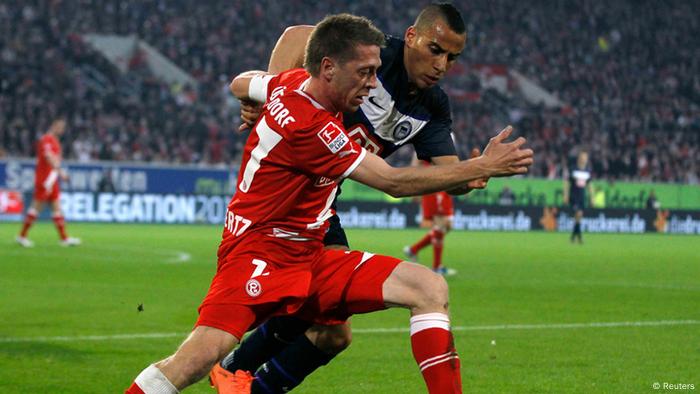 Lambertz's loyalty has paid off with first-class football
Fans of Fortuna
The effect Fortuna's return to the Bundesliga has had on the fans is impossible to miss. Even last year, when the team was still in the second Bundesliga, downtown Düsseldorf was often draped in the team's red and white colors.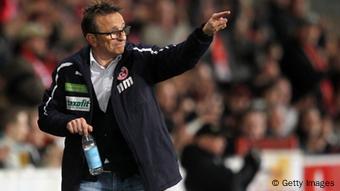 Norbert Meier has coached the team to the top
Season ticket sales have skyrocketed since Fortuna secured their spot in the Bundesliga after the relegation playoff against Hertha Berlin this past May. The team set a record this year for season tickets, selling 31,000 - about twice as many as last season.
To keep the dream of staying in the Bundesliga alive, Norbert Meier now is charged with putting a team on the pitch that can show camaraderie and a fighting spirit.
"We won't show technical superiority over Bayern Munich, and we won't have Borussia Dortmund on the ropes [at their home] Westfalenstadion," said Meier. "For us it's about hanging with them and bringing our fans along."
There won't be any trouble lighting a fire under the fans for Fortuna's first home game on match day two: a derby against neighboring Borussia Mönchengladbach, who also won its opening outing. Due to sanctions resulting from Fortuna fan bahavior in the home leg of the relegation playoff against Hertha Berlin, only 30,000 fans will be allowed to watch Düsseldorf's first home Bundesliga match in 15 years. But the team is still expecting an emotional return to Germany's top-flight and hopes to stay there for more than one season. That's not completely out of the question, provided Fortuna is on their side.