Germany's football association (DFB) on Tuesday handed Fortuna Düsseldorf midfielder Kerem Demirbay a five-week suspension for having made a sexist remark to referee Bibiana Steinhaus after she sent him off for a second bookable offense during a game against FSV Frankfurt on November 29.
"There is no place for women on a football pitch," Demirbay said, according to Steinhaus, who noted the incident in her match report. This caused the DFB to investigate the incident.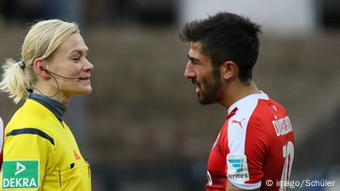 Demirbay has since aplogized to Steinhaus
The DFB said on Monday that it had initially planned to give Demirbay a five-match ban, but then handed down the more lenient five-week ban, which means he will be eligible to return to the pitch after the winter break. The DFB said that it had reduced the length of the suspension after taking into consideration the fact that Demirbay had not previously faced disciplinary action as well as his efforts to make amends.
The 22-year-old Demirbay has since apologized in public and to Steinhaus personally. His club also imposed a fine of 10,000 euros (10,800 dollars) and ordered to officiate a girls' match.
The second-division player officiated the girls' game between Haan 06 and Langenfeld last weekend but sparked more controversy by doing so while wearing designer clothes.
pfd/rd (dpa, SID)