Ex-President Leonid Kuchma said on Thursday that Ukraine's prosecutor general's office had opened a criminal case against him on suspicion of involvement in the grisly killing of 31-year-old Georgy Gongadze, one of his sharpest critics.
Kuchma was president of Ukraine from 1994 to 2005.
Gongadze's headless body was discovered in a shallow grave near Kyiv in October 2000. Since then, Kuchma has been dogged by allegations that he ordered the journalist's murder, although he has categorically denied any involvement.
Three members of a police hit squad were sentenced in 2008 for aiding and abetting Gongadze's murder.
Kuchma said that the squad's alleged leader, now awaiting trial, told investigators that the killing had been ordered by then-Interior Minister Yuri Kravchenko.
Kravchenko committed suicide in 2008, leaving behind a note alleging betrayal by Kuchma.
Audiotapes purportedly recorded by a former Kuchma bodyguard, Mykola Melnichenko, released soon after Gongadze's death, seemed to capture Kuchma ordering Kravchenko to eliminate the journalist in a contract killing.
The tapes contain voices, including one alleged to be that of Kuchma, suggesting Gongadze be "kidnapped by Chechens."
Kuchma refused to attend a meeting requested by Melnichenko, who said he would be happy to see the former president in prison.
But Kuchma's three-hour interrogation on Thursday did include a face-to-face meeting with the death squad's suspected leader, Aleksey Pukach.
Pukach, who was arrested in 2009, confessed to personally strangling the journalist with his belt and then beheading him with an axe.
Ex-president hopes to clear his name
The former president told reporters after his first hearing on Wednesday that he was ready to "go through hell" to clear himself of any charges relating to the case.
"To be honest I am calm because I do not feel any guilt," Kuchma told reporters after arriving at the prosecutor general's office in Kyiv for his first questioning session.
"I am morally ready to go through all the tortures of hell to prove I am innocent. I want that only the truth remains in Ukrainian history about what I did do and what I did not do," he said.
Kuchma has called the audiotapes fraudulent, but prosecutors have ruled that they are admissible evidence.
The tapes, which were first made public in 2000, prompted mass protests in Ukraine and calls for Kuchma to step down.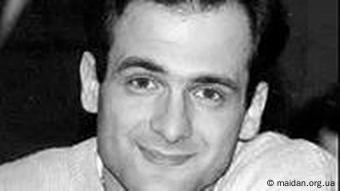 Georgy Gongadze was murdered more than 10 years ago
Georgy Gongadze rose to prominence in Ukrainian public life toward the end of Kuchma's rule after founding the Ukrainska Pravda news website. He was kidnapped in September 2000 after leaving a friend's apartment in Kyiv. At the time, Gongadze was considered one of Kuchma's fiercest critics.
Press freedom advocates Reporters Without Borders hailed the fact "that a leading figure is finally being investigated in connection with this case," but warned of the dangers of a lackadaisical trial.
"It would be completely intolerable if this new investigation were to lead into another dead end, or if it were to be carried out hastily with the sole aim of absolving former senior officials," the group said.
Author: Gregg Benzow, Darren Mara (dpa, Reuters, AFP)
Editor: Nancy Isenson