A court in Nuremberg, Bavaria, sentenced former Siemens management board member Johannes Feldmayer to a suspended two-year sentence for bribing Wilhelm Schelsky, the former head of the trade union sharing the limelight in the scandal, the Association of Independent Employees (AUB).
Feldmayer was also ordered to pay a fine of 28,800 euros.
Schelsky received a four-and-a-half-year prison term for receiving the channelled funds between 2001 and 2006.
Prosecutors had been seeking a three-and-a-half year sentence for Feldmayer and a six-year sentence for Schelsky. It is not yet known whether the pair will appeal the verdict.
The funds were meant to buy AUB's loyalty to Siemens and reduce the influence of another union, IG Metall.
The court decision comes in the wake of a wider two-year scandal over corruption and kickbacks at Siemens that has rocked the 160-year-old company.
The allegations of corruption have already led to several resignations among top management, including former chief executive Klaus Kleinfeld.
Munich-based Siemens has thrown around 510 million euros into internal investigations related to the allegations.
Siemens rep damaged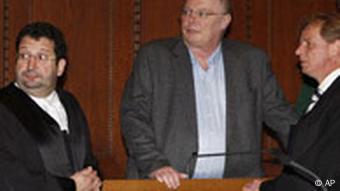 Schelsky, center, was charged with accepting bribes totalling over 30 million euros
Feldmayer's sentencing followed that of two other former Siemens executives Wednesday, Nov. 19 who were found guilty of assisting in a 1.3-billion-euro ($1.6-billion) worldwide web of bribery.
The men, Ernst Keil-von Jagemann, 58, and Wolfgang Rudolph, 69, had admitted being accessories to misappropriation and corruption at a two-day trial in Munich.
Kickbacks were paid in various nations including Russia, the court heard.
Siemens, whose products range from turbines and telecoms exchanges to trams, is struggling to re-establish itself as a graft-free company after the scandal.
Judge Peter Noll sentenced the Jagemann to two years in prison and a fine of 12,000 euros on 75 charges. Rudolph received nine months on two charges and was told to pay 20,000 euros to charity. Their prison terms were suspended.