In 1991, Kristiane Backer had the life thousands of young people dream of: She had been selected among thousands of contenders as the first German VJ for MTV Europe.
Still, she was empty inside. "I am feeling so low," she wrote in her diary.
Then, in August 1992, she fell in love with Pakistan's most famous cricket player Imran Khan. The relationship ended two years later, but Backer went on to convert to Islam in 1995.
Her story was recently published in a book entitled "From MTV to Mecca, how Islam changed my life."
Disappointment with the entertainment world
Imran Khan had a major influence on Backer
In the biography, Backer talks openly about the superficiality of the television and music business - which almost broke her, she says - and about her two failed marriages.
As a convert to Islam, she has been living between two worlds, not feeling fully accepted by either. Having grown up as a Protestant in Hamburg, the 43-year-old Backer now prays five times a day to Allah and follows the Muslim law of abstaining from alcohol. She donates money to the poor and observes the Ramadan fast.
"I would be happy if my book inspired people to discover their spiritual side and to open themselves up," said the former VJ. "On the other hand, I want to help clarify some prejudices against Islam. I want to build bridges and help support the dialogue between different religions and cultures."
Backer met cricketer Imran Khan in London in 1992. He introduced her to the teachings of the Koran. During their nearly two-year relationship, Backer visited Pakistan many times with Khan, who is considered a national legend for leading Pakistan to their first Cricket World Cup win in 1992.
For the German television host, a new world opened up. Even after Khan decided to end their relationship, Backer became a Muslim in 1995 and quit her job at MTV.
Fascination with humanity
"First, your relationship with God in Islam is very close because you pray so many times a day. If you pray five times a day, you are connecting yourself with God every time you pray," said Backer, adding that she couldn't understand some of the Christian doctrines she had grown up with.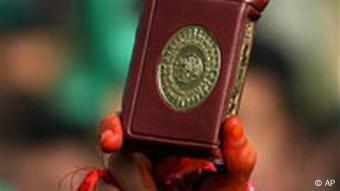 Much of what is done in the name of Islam is not in line with the religion, says Backer
"I was also fascinated by the humanity of the people I met, which can be seen all over the Orient."
After her conversion, Backer started wearing long skirts and long sleeves. Her parents, relatives and friends were worried at first, but ultimately accepted her decision.
The German media, however, have not been so kind. Critics have called Backer's book naive, saying she ignores negative sides of Muslim societies. But she argues that a lot of what is happening worldwide in the name of Islam is absolutely "un-islamic."
Backer believes that much of the current Islamophobia in Europe is tied to historical conflicts.
"At the time of Goethe, Oriental literature inspired the Romantic Movement," she said. "It seems that at that time, there was apparently a greater openness and maybe a greater understanding for other religions and cultures."
Backer said she has become more mature and composed over time. She lives as a on her own in London, but has still not lost hope of finding her Mr. Right. Inshallah - if it is God's will - she said.
Author: Priya Esselborn
Editor: Grahame Lucas/Kate Bowen