The city of Paris confirmed a press report Thursday that former French President Jacques Chirac and his conservative UMP party have agreed to pay the city to drop its embezzlement cases against him.
Chirac is set to pay 550,000 euros ($698,060) while the party of current President Nicolas Sarkozy would pay an additional 1.65 million euros.
The civil suit had alleged that Chirac and the party created 21 contracts for fake jobs during his tenure as the mayor of Paris between 1977 and 1995.
The contracts were allegedly awarded to Chirac's political allies and paid out of the city's coffers to the tune of 4.5 million euros.
Paris City Council was to be legally represented as the injured party in the criminal trial, due to start at the end of the year. But now the satirical weekly Le Canard Enchaine has revealed a deal which would allow the former president to avoid this humiliation.
In mid-June, Sarkozy, though no friend of Chirac these past few years, organized a dinner at Chirac's favorite Chinese restaurant in Paris. Here, the mayor of Paris, Bertrand Delanoe, agreed to withdraw the council's complaint against his predecessor in exchange for a sum representing the money wrongly paid out by the municipality in salaries, in addition to interest and legal costs.
Payout not popular with everyone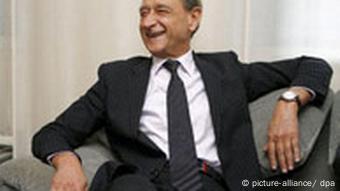 Delanoe has denied talk of a secret deal
The deal has scandalized some, including Yves Contassot, deputy mayor of Paris and the head of the Socialist Green Party coalition on the city council.
"I find this shocking," Contassot told French public radio. "Because this affair isn't only about money which needs to be returned to the City of Paris, it is above all an ethical question. Fictitious employment is cheating. You can't just wave that to one side."
Several UMP members in Paris have even found themselves a lawyer and hope to take over the role as the injured party in the trial.
Chirac's wife Bernadette has made it known that she is against the arrangement because, she says, it is an admission of guilt which would tarnish her husband's reputation.
Chirac maintains his innocence
But Chirac's lawyer Jean Veil released a statement reconfirming his innocence on Thursday.
"President Jacques Chirac has always denied having committed any crime whatsoever and maintains that the jobs at issue were legitimate and useful to the city of Paris and to Parisians," the statement said.
"In order to remove a source of controversy harmful to the citizens of Paris [… Chirac] hoped for an end to the civil litigation and that the City of Paris would simply be reimbursed for the money it sought to recoup through legal means."
Both Chirac and Delanoe deny that there is any sort of secret deal or quid pro quo behind the settlement, which still needs to be formally approved by the city council.
A separate corruption trial for Chirac will go ahead as planned this fall.
Author: John Laurenson, Holly Fox (AFP/Reuters)
Editor: Martin Kuebler