The Salafist Group for Preaching and Combat group (Groupe Salfiste pour la Prédìction et le Combat) was allegedly founded on the instructions of Al-Qaeda leader Osama bin Laden.
Known by its French acronym GSPC, it has become the main extremist group in Algeria's Islamist rebellion that has left some 150,000 people dead. Muslim fundementalists have been battling the secular state since the cancellation in January 1992 of the second round of mulitparty elections which an Islamic Party, the Islamic Salvation Front (FIS) was poised to win. The GSPC is thought to be financed through criminal activities which include the smuggling of vehicles, cigarettes, drugs and arms. Its weaponry: AK-47s, AK-57s, explosives and landmines. The GSPC was formed in 1998 by former members of the Armed Islamic Group, or GIA (Groupe Islamique Armé), which was then Algeria's main Islamic group.
GSPC on U.S. list of terrorist organisations
The two groups rejected an offer of amnesty put forward by the Algerian government in 1999 and have continued to wage their battle to establish an Islamic republic. The GSPC, mainly active in the east, has been struggling to restore the image of the Islamists' holy war, or "jihad", tarnished by frequent massacres of civilians attributed to the GIA, which operates mainly in the west and to the south of the Mediterranean coastal capital Algiers. The GSPC claims not to target civilians in the struggle against the "unholy" state headed by President Abdelaziz Bouteflika. The group is on the US government's list of terrorist organisations and is believed to have some 500 fighters. In October 2003, GSPC officially announced for the first time a formal link with Al-Qaeda.
European hostages; German ransom money ?
Despite its alleged avoidance of civilian targets, the GSPC kidnapped 32 Europeans trekking in Algeria's Sahara desert in the spring of 2003. The hostages -- 16 Germans, 10 Austrians, four Swiss, one Dutch and one Swedish national -- were freed in two waves in May and August.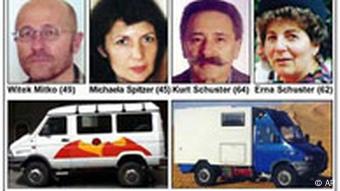 Missing European tourists later discovered to have been taken hostage.
One died from heatstroke while in captivity. One year later, Amari Saifi, GSPC's second-in-charge, told a Paris Match reporter in Chad that Germany had paid a ransom for their release.
Leader killed
Algerian troops killed the head of GSPC, Nabil Sahrawi in June 2004. He was reportedly shot dead along with four other GSPC leaders including one of his deputies, Abi Abdelaziz, alias Okacha El-Para, in the mountainous Bejaia area east of Algiers. His death was a reminder that isolated fighting still continues in Algieria, even though the bloodshed peaked in the 1990s. A state of emergency remains in place, though daily reports in the Algerian press of entire families being hacked to death by Islamic extremists now thankfully belong in the past. Violence is declining: more than 2000 people were killed in 1999, by 2003 the number was down to 900.
Valued U.S. ally
President Bouteflika, who was re-elected in April 2004, has made it a priority to crush militants intent on turning secular and oil rich Algeria into a Taliban-style Muslim state. He said the defeat of "terrorism" in Algeria was essential if democracy was to continue to develop. U.S. military experts say they are training Algerian forces in the country as part of the global war on terror. Washington sees Africa as a potential training and recruiting ground for terror networks because of its weak political institutions, unpoliceable deserts and long coastlines. Algeria is regarded by the U.S. as an important ally because it has been fighting rebels for more than a decade.
Ties with France
Nevertheless one of the first to congratulate President Abdelaziz Bouteflika on re-election was French President Jacques Chirac. He visited Algeria wíthin a week of the landslide victory promising support from France for future economic and social reforms. One local newspaper, Le Quotidien d'Oran, saw this "rush" to be seen in Algiers as betraying France's wish to counter "the growing influence of the Americans."
France ruled Algiera for 132 years before granting it independence in 1962 following a guerrilla war that lasted nearly eight years and claimed an estimated 100,000 French and one million Algerian lives.