It's five years until Qatar hosts the World Cup. A strange milestone to be mulling over with the draw for Russia 2018 less than a fortnight away, but nothing about this narrative has been ordinary. Just over two years ago, FIFA confirmed the 28-day tournament would be played between November 21 and December 18, the first time in history it would not run during the summer. It was merely the latest in a long line of controversies.
The first Arab state to host the tournament was always likely to come under scrutiny. It's not a region famed for its love of football - at least not in the same way European and South American nations are. Given that fifty degree temperatures there are nothing unusual, that's perhaps not all that surprising. The weather was the reason for the tournament's switch to winter, after all.
The real issue with a Qatar World Cup was never its lack of footballing heritage. Nor was it the major disruption a winter World Cup would cause to domestic leagues, which won't be limited to the 2022/23 season but will likely affect several seasons either side of it. What people will take umbrage to is an organizational nightmare built, literally, on the suffering of thousands of migrant workers, in a nation with hugely questionable human rights record.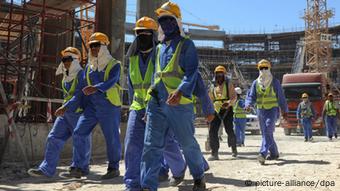 Qatar's migrant workers toil in sweltering heat
In September of this year, research from the campaign group Human Rights Watch revealed that thousands of workers on construction sites in Qatar are being subjected to life-threatening heat and humidity. These include those building stadiums for the 2022 World Cup. Hundreds are dying every year, they believe, as a direct result of the scorching heat and a lack of due diligence from construction site officials.
In 2014, British newspaper the Guardian revealed that migrants working on the infrastructure for the 2022 World Cup were likely to be dying at a rate of more than one per day. This was despite huge pressure on the government to improve the conditions of its workforce.
In May 2017, Qatar announced that the first of eight venues was ready to host its first match; the final of the nation's most prestigious domestic tournament. The newly renovated Khalifa International stadium now included the state of the art air-conditioning system that was crucial to Qatar's successful bid. It would make games playable during sweltering heat, officials confirmed, ignoring concerns from environmental organizations about the impact of refrigerating enormous stadiums in the desert.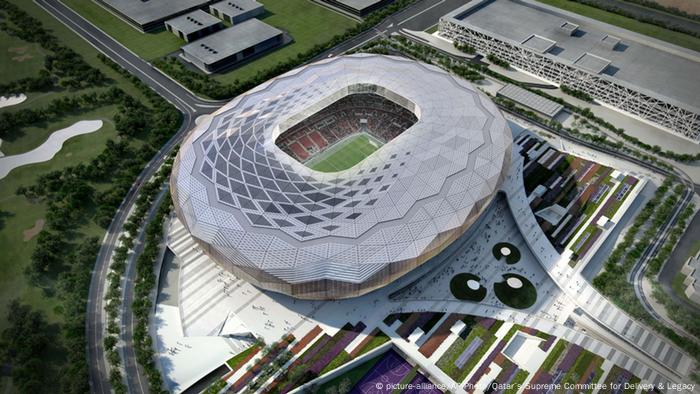 An artist's impression of the Qatar's unfinished Foundation Stadium
The World Cup bid itself has also been highly controversial. In May 2011, Qatari World Cup officials were forced to deny that they had "bought" the World Cup, through a series of alleged bribes totaling more than €1.3m, made to FIFA officials.
The FBI launched its investigation into then FIFA Vice-President Jack Warner after it was alleged that he and his family received over €1.7m in payments from Qatari officials during the bidding process. Then in 2015, the FIFA corruption case began, an FBI-led investigation out of Zurich which ultimately led to the removal of FIFA president Sepp Blatter and the suspension of the 2026 FIFA World Cup bidding process. Despite ongoing investigations, Qatar insists allegations of corruption are unfounded.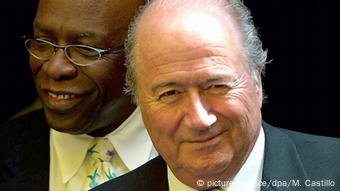 Pictured in 2003, former FIFA President Sepp Blatter and CONCACAF President Jack Warner
At the end of October 2017, Qatar announced a range of labour reforms. Workers would now be entitled to a minimum wage, would have their working conditions monitored by independent authorities and would also be able to flee abusive employers that held the power to invoke sponsorship deals that kept them in the country. While clearly a step in the right direction, many are minded to wonder why it took so long. The nation must have expected a greater level of scrutiny once its bid was approved back in 2013.
The controversies haven't stopped either. Qatar are currently attempting to persuade four neighbouring states to allow their nationals to attend the World Cup, after they imposed a diplomatic and trade boycott against it. Saudi Arabia, Bahrain, the United Arab Emirates and Egypt have accused Qatar of financing terrorism, adding a terrifying allegation to an already numerous charge sheet ahead of one of the most watched events on the planet.
In total, the Qatar World Cup is set to cost the oil-rich nation somewhere in the region of €190bn. To put that into context, South Africa's 2010 tournament cost a comparatively paltry €3bn, or 60 times less than the 2022 installment.
Given the monstrous cost, and subsequent controversies, ranging from the potential treatment of LGBT fans – with homosexuality being illegal in Qatar – to the rights of migrant workers, corruption scandals and environmental concerns, it's fair to wonder if Qatar officials feel they've bitten off a lot more than they can chew.
Qatar's original World Cup bid urged FIFA to take "a bold gamble". Qatar has exactly five years to prove it was one worth taking.