Oldies radio stations may often air Nazareth's rock hit "This Flight Tonight," but anyone who knows the original song by Canadian folk icon Joni Mitchell will quickly turn off the radio, fetch her album Blue, and dive into the magical universe she creates with her sweet voice, mysterious lyrics and unusual guitar playing.
Self-taught artist
Joni Mitchell has a forthright personality. Throughout her life she has attempted different musical genres, lifestyles and relationships; she lets herself drift and processes her experiences in songs and pictures.
Born Roberta Joan Anderson on November 7, 1943, she was the daughter of a teacher and an air force officer, and the family had to relocate several times. The young girl retreated into her own world of painting, reading and inventing stories.
After contracting polio at the age of nine, Mitchell comforted herself and other children at the hospital by singing. She briefly took piano lessons, but had more fun playing the guitar. While teaching herself to play the instrument, she developed her own style because she couldn't move her left hand properly due to polio.
Mitchell later studied art while writing her own songs. Becoming pregnant as a student, she was too poor to provide for her baby and gave it up for adoption. She did not see her daughter again for many years.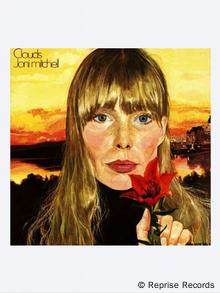 Mitchell called herself a painter who makes music
A star is born
In the 1960s, Mitchell was discovered by David Crosby of band Crosby, Stills & Nash. He produced her debut album, Song to a Seagull, a journey into a lyrical, dreamy world filled with strong imagery and personal stories.
A few months later, her second album, Clouds, included her first hit "Both Sides Now" — which would later be covered over 50 times. The LP made it into the Top 40 in the US, was her first to be certified gold by selling over 500,000 copies, and won her first Grammy Award. Mitchell produced most of the album herself; she also painted the album artwork, a self-portrait. She oversaw the art design of all her subsequent albums.
Read more: American folk legend Joan Baez announces farewell tour
Woodstock generation
Like all the top stars of the time, Mitchell was also expected to play at the legendary Woodstock Festival in 1969. That didn't work out, because her manager has scheduled another appearance on The Dick Cavett Show instead.
She nevertheless wrote a song dedicated to the festival, which was released on her third album, Ladies of the Canyon. "Woodstock" became a hit — not for her, but rather for her mentor David Crosby, who released a version of the song with Crosby, Stills, Nash & Young. In ways, Mitchell rejected the anti-war protest generation galvanized at Woodstock, saying she respected the men and women in the military, including her uncle.
With her fourth album, Court and Spark, which was accompanied by a sold-out US tour, she became a superstar and the "First Lady of Folk" whose legendary status also grew through her numerous affairs. Leonard Cohen, Jackson Browne and James Taylor were just a few of the most famous names on Joni Mitchell's list of lovers. The now diva wouldn't deign to speak to mere mortals.
New musical horizons
Mitchell worked hard as she sang, wrote music, toured and released one album after another. On Blue (1971), she recorded her most intimate songs about a vulnerable woman who gave away her child, whose relationships were not working out and who dreamed, grieved, and occasionally gave a small smile.
It was her last intimate folk album before her songs were arranged for a band that played a larger role in her changing sound. Her now four octave range voice grew deeper with every record and became deep and raspy — which was no surprise as Mitchell started smoking when she was nine years old.
In 1976, Mitchell produced Hejira with Jaco Pastorius, regarded as the god of the bass guitar and whose instrument shaped the album that forever moved her out of the folk singer mold. Another milestone album came three years later, a collaboration with jazz composer and musician Charles Mingus aptly named Mingus.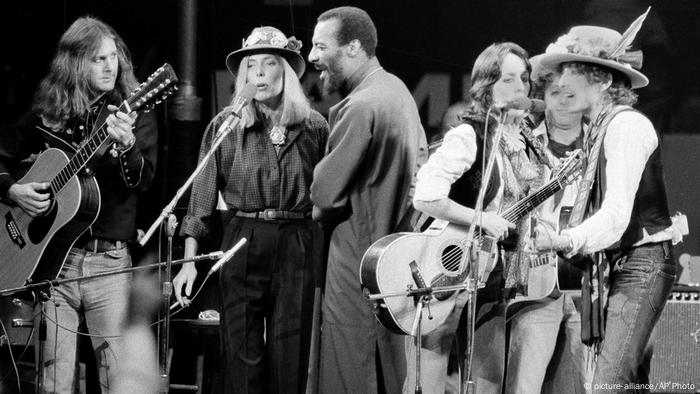 Roger McGuinn, Joni Mitchell, Richi Havens, Joan Baez, Bob Dylan performing in 1975
By the 1980s time, the Joni Mitchell of old had disappeared. The trend continued on Chalkmark in a Rainstorm when the music was almost completely created by guest musicians Peter Gabriel, Don Henley, Wendy & Lisa and Billy Idol.
Having stopped releasing regular albums, the musician turned mostly to painting until in 2000 she rerecorded her song, "Both Sides Now," turning the folk standard into a scratchy jazz ballad. The album of the same name garnered Mitchell her fifth Grammy.
She won a total of eight Grammys, including one for her life's work and was inducted in the "Rock'n'Roll Hall of Fame." Her last album to date,Shine, was released in 2007.
Joni Mitchell in 2013
Personal struggles — and celebration
For years, the singer-songwriter has suffered from Morgellons disease, a rare skin condition that makes patients feel as if small fibers were emerging from their skin "like mushrooms after a rain," as Mitchell once told the New York Times. In April 2015, she was found unconscious in her apartment but returned home after a few days in intensive care.
Two years later, she made a rare public appearance at Elton John's 70th birthday party. She was seated in a wheelchair after having suffered a brain aneurysm in 2015, and having to relearn to speak and walk.
Now that the folk music icon has turned 75 years old, musicians including Rufus Wainwright, Chaka Khan, Norah Jones, Emilou Harris, Seal and Kris Kristofferson are honoring Joni Mitchell at the "Joni 75: A Birthday Celebration" tribute concert on November 6 and 7.
The all-star line-up will perform songs from across Mitchell's life and career, including her entire oeuvre of 19 studio albums.