On Sunday, September 28, as the newest wave of pro-democracy demonstrations kicked off in Hong Kong, student leader, Joshua Wong, recommended the use of FireChat in his Facebook page. The app facilitates fast communication between users, even without Internet access.
Although it is not considered high-tech - given that it is based on Bluetooth technology - it was downloaded over 110,000 times between Sunday lunchtime and Monday afternoon in Hong Kong, said Christophe Daligault, marketing director of Open Garden, the tech company that developed the app.
Poor connectivity
Amongst the demonstrators rumors are circulating that the authorities can interfere with the mobile network service in the city centre. Paul Wong, a Hong Kong IT expert told DW that despite it all, it was unlikely that the network would be cut off here, of all places.
There might be other reasons why so many Hong Kongers have downloaded the app, says Wong. "Reception between skyscrapers in the area has been bad for many years," the expert said. "When thousands want to use the Internet in their smartphones to chat, the base stations are quickly overloaded. FireChat allows the smartphones to connect directly with each other and there's no need for Internet."
However, Bluetooth technology only allows the exchange of data between devices that are a few meters away from each other. In this case that is not a problem, says Wong. Given that protesters are usually in close proximity, each phone using FireChat and Bluetooth serves as a relay station. The more users there are, the bigger the area covered and the ability to send messages will be. The system is used, for example, to inform other users where more umbrellas are needed for protection against pepper spray.
Also popular in Taiwan
Open Garden, the developer of FireChat, promotes the fact that the app has been used in the different Chinese protest movements this year.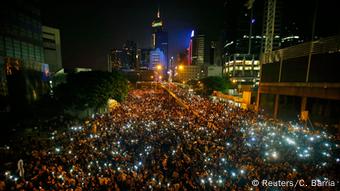 Messaging service FireChat has been download more than 100,000 times in 24 hours in Hong Kong
The company's founder, Micha Benoliel, says FireChat also was used during the "Sunflower" student movement in Taiwan. He says that his firm's mission is to enable "freedom of speech and freedom of access to information." The company wrote on its Facebook page: "We hope FireChat will serve you well," while warning that the messages are not encrypted.
Hong Kong IT expert Wong is also fully aware of the risk. "The demonstrators can spontaneously start a group chat that nearby users can join at will. However, this means that the police can also easily find out what the protesters are planning – all they need is a mobile phone with FireChat."