In a news-starved period, the reaction was as to be expected. Following the school shooting in Newtown in December, several US media outlets were quick to report a record increase in the number of background checks required when buying a gun.
The FBI did in fact register 2.8 million background checks in December 2012, a 50 percent increase on December 2011. It's also true that in 2012 more background checks were registered than ever before.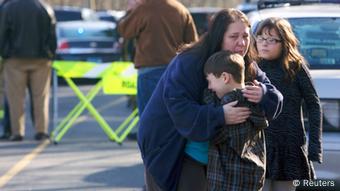 27 people were killed at the recent school shooting in Newtown
But a closer look at the FBI data reveals that the number of background checks has risen every year since 2002. In short, for the last decade, every year has been a record year. It's also a well-reported fact that December is traditionally the month where most guns are sold. Except for 2007 and 2009, every December since 2002 has seen a higher number of background checks than the previous month.
Fear and protest
"The increase in firearms sales after the massacre in the school in Connecticut is no surprise," Robert Spitzer, author of the book "The Politics of Gun Control" and politics professor at New York State University, told Deutsche Welle.
"We observe this phenomenon after every election, for example as a means of protest against Obama's election in 2008, as well as his reelection this autumn and following every shooting," he said. "It's fuelled by people's fear that their access to guns might be restricted. It's also a political protest by gun owners against any tightening of the laws."
Put differently, the FBI's figures are noteworthy, but not because they follow the massacre in Connecticut or because a record was set. Rather, because they describe a long-term trend. Weapons sales have risen dramatically over the last decade. In 2002, some 8.5 million background checks were registered - ten years later, the figure was 19.5 million.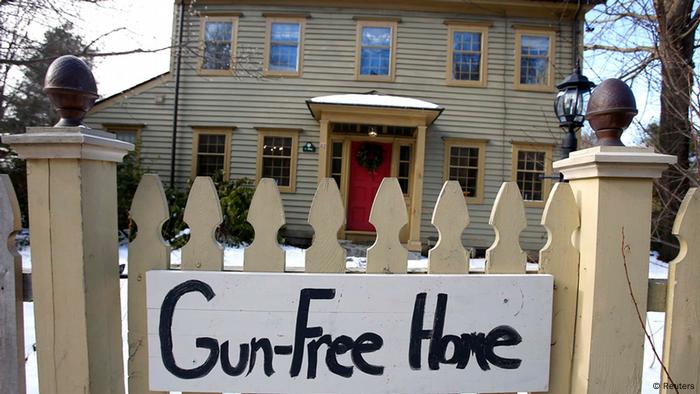 People who don't own guns are less likely to buy one, experts say.
What is more, the actual number of sales is probably a lot higher than the number of background checks might imply. Every background check doesn't necessarily correspond with an actual sale. On the one hand, because a small number of applicants are barred from buying arms as a result of the check. On the other hand, because some applicants never actually buy a gun.
But people buying arms during so-called gun shows, popular trade fairs in the US, don't need a background check in most states if they purchase from non-professional sellers. And customers with a successful background check can buy several guns, a fact that isn't reflected in the data. Generally, private gun sales between individuals also don't require background checks.
More guns in fewer households
While the number of gun sales is steadily on the rise, according to several studies the amount of households with guns has actually been decreasing for several years - as are murders and crimes involving guns. An analysis by FactCheck.org of the Annenberg Public Policy Center shows that last month the homicide rate involving guns fell to an all-time low since 1981. The number of armed robberies and assaults has reached its lowest point since 2004, though the number of suicides involving guns has reached its highest point since 1998.
It seems that Americans are buying more weapons, while fewer households own guns and crime involving guns is decreasing. What's behind this apparent contradiction?
"There's a tendency for people who already own guns to buy more," Spitzer said. "It's rare for people who have never owned a gun to go out and buy one or several." He added that gun sales tend to reflect a fear of crime, which doesn't correspond to sinking crime rates.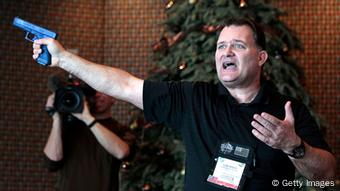 There is little support for a national weapons registry
Weapons registry unthinkable
Wouldn't it make sense to establish a national weapons registry - as was just done in Germany - to finally provide clarity on any concentration of guns and the weapons trade in general?
Impossible, says Kristin Goss of the Sanford School of Public Policy at Duke University in North Carolina. "It's highly unlikely that Congress would establish a national weapons registry."
On the contrary, for decades, Congress prohibited governmental authorities from keeping a national data base on arms sales, Goss said. "On top of that, a special law stipulates that the data on background checks has to be deleted 24 hours after a sale was authorized."
A national weapons registry and other laws are unlikely to pass, given that the majority of Americans support, according to surveys, the Constitutional right to bear and own arms. Most guns are sold in the supermarket chain Walmart: No matter what the data says, guns are simply an integral part of the so-called "American way of life".