When the police in Germany are looking for perpetrators of violent crimes, they often focus on people with a Russian migrant background. If they're investigating break-ins, officers will often search for "men from eastern Europe." If their investigation is connected to a residency offense, they will almost exclusively look for people with "dark skin." The drivers most likely to be pulled over by night-time traffic patrols are those who look "Mediterranean." Police officers themselves attested this kind of clichéd behavior in a survey done for research purposes. They frequently defend it by citing the great pressure they are under to take snap decisions.
The fact that similar patterns of behavior to those seen in the American suburb of St. Louis, Missouri are also observable in Germany was revealed by, among other things, the delay in solving the series of murders perpetrated by the right-wing extremist terrorist group calling itself the "National Socialist Underground" (NSU). For years, members of the terrorist cell carried out murders undetected. Men of Turkish origin tended to be the target, many of whom were small businessmen. For a long time, German intelligence agencies assumed that the murders were connected to Turkish gang rivalries. They even suspected relatives of the victims of being the murderers. President of the Federal Criminal Police Office Jörg Ziercke said the idea neo-Nazis might have committed the crimes out of hatred of foreigners was "outside the police's imaginative scope."
Baseless accusations
"There is no racism in the police force," said Rainer Wendt, the federal chairman of the German police trade union in an interview with DW. The investigative failures in the NSU murder case had to do, he said, with failures in communication between several security services, procedural mistakes, and above all, with political guidelines. Wendt clarified this: "For decades the entire political elite from Flensburg to Passau was of the opinion that right-wing extremism no longer existed in Germany. It was impossible that that could happen again!" This belief, he said, made it hard for subordinate authorities to say to the political elite: Minister, we do have a problem with this.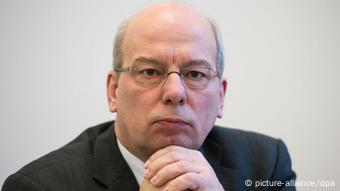 There is no racism in the police force, claims Rainer Wendt
"This has nothing to do with clichéd thinking or racist tendencies in the police," says Wendt, a serving police officer of many years' standing. The police authorities do indeed attach great importance to the strict observance of hierarchy. Police authorities are very respectful of government ministries. But this tends to lead to people doing everything in their power to avoid being suspected of any kind of xenophobic behavior. In North Rhine-Westphalia, for example, the biggest German state, statistics show the same crime rates for Germans and non-Germans alike. Statistics that say otherwise, it seems, are not considered beneficial by the state's ruling Social Democrat-Green coalition.
Examining prejudices
Nonetheless, it seems there must be a kind of "pigeonhole mentality" among the police. They are working on changing this mentality and raising awareness among young police recruits of the pitfalls of clichéd thinking in dealing with crimes. The police academy in Lower Saxony is conducting a research project that collates police officers' experiences relating to prejudices. The title of the study is "Intercultural Qualification of the Police." No such study has been done since 1996 - presumably out of fear of the consequences.
Astrid Jacobsen, a professor at the Lower Saxony police academy, heads the current research project, which began in 2013. She acknowledged in an interview with the press that the results show you will find all the clichés and ethnic prejudices in the minds of police officers that you find in German society overall. The reason for this, she said, was that the majority of police officers came from the German middle class. In this part of the population, she said, prejudice is widespread, because their social status is much more fragile - they have more to lose.
Serious social consequences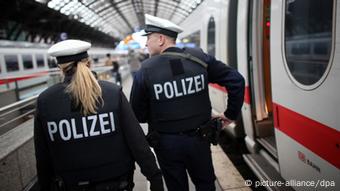 Racial profiling by German police has been a concern for a number of reasons
One of the examples detailed in the research project shows what disastrous errors of judgment can result from ethnic prejudice. The police were informed that there had been break-in in a family home in Rhineland-Palatinate. Police officers went to the house and summarily arrested the Turkish father of the family. They simply assumed that the father had been perpetrating "domestic violence." The prevailing mentality was clearly revealed: Turkish man = perpetrator, not victim.
A 2010 study by the European Union had already proved, based on security service records, that passport checks conducted by federal police at borders, train stations and airports were primarily done on people who looked "recognizably foreign." Amnesty International and the German Institute for Human Rights warn that this kind of approach reinforces prejudice among the general population towards certain population groups.
Rainer Wendt, the chairman of the police union, regards the accusation that the German police act in a racist manner as absolutely unjust. The federal police are obliged by law to be on the lookout for illegal migration, for example. "Why should a federal policeman check an 80-year-old German granny when there's a 20-year-old man sitting there who is clearly and recognizably African?" asks Wendt. A federal policeman must, he says, be allowed to make use of "good common sense" when carrying out his official duties.
Migrants for the police
This, Wendt says, is why the police are trying hard not only to teach intercultural competency within their own ranks, but also to continually improve their knowledge of this field. The German security services regard the linguistic competencies and cultural awareness of migrants in the police service invaluable. Rainer Wendt is very clear: "We support this course!" he says.
The police academy in Lower Saxony has already had success with such efforts. On 1 October 2014, 670 candidates began their three-year studies for a bachelor degree to become police inspectors. Of these students, 88, or just over 13 percent, have a migrant background. And the academy is still seeking applicants - on the webpage www.polizei-studium.de.