One has to wonder if SV Hamburg striker Paolo Guerrero is sitting there in Peru smiling at the irony of it all. While his club is flying high in the Bundesliga, he's stuck in his home country unable to get back to Germany due to a crippling fear of air travel.
The 26-year-old Peruvian international striker returned home to recuperate from a knee operation last September, but despite nearing full physical health after his surgery, his mental state is less robust. Guerrero tried a total of four times in January alone to get on a flight back to Hamburg but each time he had to leave the aircraft before takeoff, gripped by paralyzing aviatophobia.
Guerrero says his fear manifests itself in sometimes severe bowel movements, otherwise known as gastritis. In a recent interview with German football publication Kicker, he said he had "a fear of flying, but also a fear that on the plane something could happen with my stomach."
Even in the company of family members armed with tranquilizers, Guerrero was not able to get on a flight. The striker is now in therapy to help combat his inability to board a plane. It may turn out that it's not a fear of flying nor gastritis that are keeping him in Peru but a nasty case of Germanophobia - the fear of Germany and its culture…
Hamburg will be hoping that Guerrero gets over whatever is preventing him from returning to Bundesliga action as soon as possible. Ever since the striker left to have his knee operation, their form has tailed off. While HSV are still challenging for the Champions League spot, they were top of the league when Paolo left last year.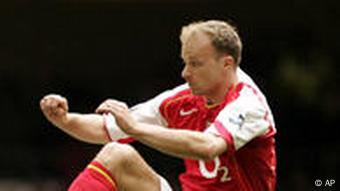 Bergkamp flat out refused to fly
Flying Dutchman grounded
Guerrero isn't the only soccer star who has made headlines over his fear of flying. During his time at Arsenal, Holland striker Dennis Bergkamp was known as the Non-Flying Dutchman due to his phobia.
Bergkamp's own fear of flying came from an incident while preparing to fly out with the Dutch national team. A journalist's ill-conceived joke that he was carrying a bomb led to the flight being canceled before takeoff and prompted such a state of nervousness in Bergkamp that he vowed never to fly again, claiming the anxiety over future flights would significantly impact his performances.
Bergkamp's availability for away matches in European competition was severely limited as a result. Unless he could reach the venues by car or train, he wouldn't go. Even when he did show up, the arduous journeys left him exhausted and he often missed the game or the next fixture. In the end, he just stopped going.
Bergkamp enjoyed great success while with Arsenal in England, a country where distances can be quite comfortably managed by car or train. He didn't, however, have anything like the same amount of success in Europe. And neither did Arsenal.
Becks' bird angst
Another big star with a fear related to flying is David Beckham. The British midfielder is a sufferer of ornithophobia, the fear of birds -- the feathered kind, not the human female kind, with which Beckham seems to have absolutely no problems.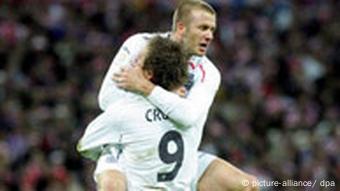 Becks' fear of birds has proved too big to master
Unless a huge flock of pigeons descends on the San Siro while Becks is playing for his current loan side AC Milan, or he's accosted by DC United's mascot Talon - a six-foot tall eagle - while playing in the US with LA Galaxy, then Beckham and his teams are unlikely to be affected by his phobia on the pitch.
Some phobias, however, do have a massive impact on teams.
One of the most disturbing and drastic incidents came in an amateur league game in France in October last year when Bebel, a team from Creteil, a southeastern banlieue of Paris, called off a game against a local rival because of a collective outbreak of homophobia.
Bebel, a team composed of mainly Muslim players, were due to play Paris Foot Gay (PFG) but refused to play on the evening before the match saying it was "against their principles."
In an e-mail sent to PFG, Bebel said as a team of practicing Muslims they could not play against PFG. An inquiry into PFG's subsequent complaint is still being investigated by French soccer authorities.
All of which puts Paolo Guerrero's fear of flying into perspective.
Author: Nick Amies
Editor: Martin Kuebler