FC Barcelona president Josep Maria Bartomeu resigned from the club on Tuesday after nearly 20,000 fans signed a petition demanding that he step down.
Bartomeu was supposed to face a vote of no confidence next month. The rest of the board of directors at the Spanish football club also resigned.
"It's a composed and relaxed decision, agreed with all my fellow directors," said Bartomeu in an official announcement.
An election for Bartomeu's replacement will take place within the next three months, but it is expected to happen well before three months' time. An interim board will be put in charge until his successor is named.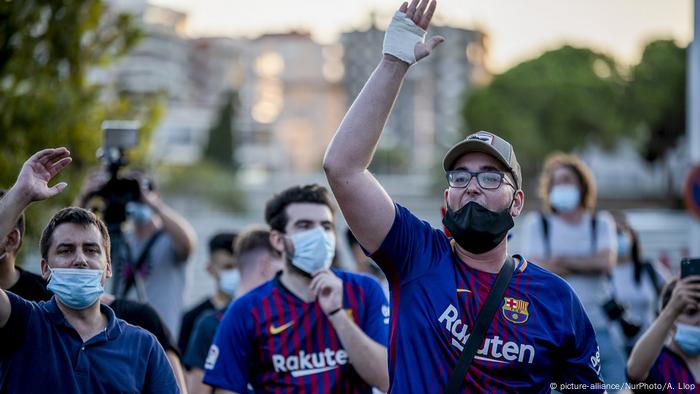 FC Barcelona fans protested the club after Messi announced his intent to leave the club due to a lack of direction. He eventually stayed
Bartomeu was in control of the club for six years. During that time, they won the 2015 UEFA Champions League crown, four consecutive Copa Del Ray titles from 2015 to 2018, and four La Liga titles. But the backlash over superstar Lionel Messi's near departure over the summer, as well as a lack of recent form, trophies and financial stability proved too much.
"[Bartomeu] didn't end up keeping his word," said Messi, during a September interview with football website Goal, adding "it has been a long time since there has been a project or anything at all. They are always juggling and plugging gaps."
FC Barcelona announced earlier this month that the club lost €97 million ($114 million) for last season, and its debt swelled to €488 million.
Super League announcement
The now former president also said Monday that he had accepted a proposal for the Catalan club to play in "a future European Super League" which "would guarantee the financial stability of the club."
The concept of a European football Super League has been floated around for several years, which would give the top teams from the top national leagues in Europe a chance to play against one another in a league of their own. Even defending German and European champions Bayern Munich were interested in forming such a league. If it were implemented, it would likely replace the Champions League and/or Europe League competitions already in place.
La Liga president Javier Tebas Medrano tweeted his dismay at Bartomeu's decision to support the league, saying "it confirms his ignorance about the football industry. Sad end for a president with successes and lately many mistakes."
kbd/sri (AFP, AP, Reuters)