DW: Fazal Bahardeen, in 2008, you founded the first company that rates Muslim-friendly hotels and you run a travel website for Muslims. How is Halal Tourism developing in Europe?
Fazal Bahardeen: At the moment, the roughly 120 million Muslim travelers prefer countries in Asia, but Europe is popular, especially France, Spain, Germany and Italy. Some European countries are interested in the growing Muslim travel market, but there are no real open efforts to target the market. I can imagine that this is also connected to the negative reporting about Muslims. This negativity in the media probably keeps hotels and tour operators from looking at the market.
Is there a typical "halal" traveler?
Most Muslim travelers come from Saudi Arabia, the United Arab Emirates, Indonesia and Malaysia. But there is no typical halal traveler. For some practicing Muslims it just matters that their hotel offers halal food and a place where they can pray. For others it is very important that the hotel takes all the key needs of Muslims into account including no night club, no alcohol and having separate opening hours for men and women for gyms or swimming pools.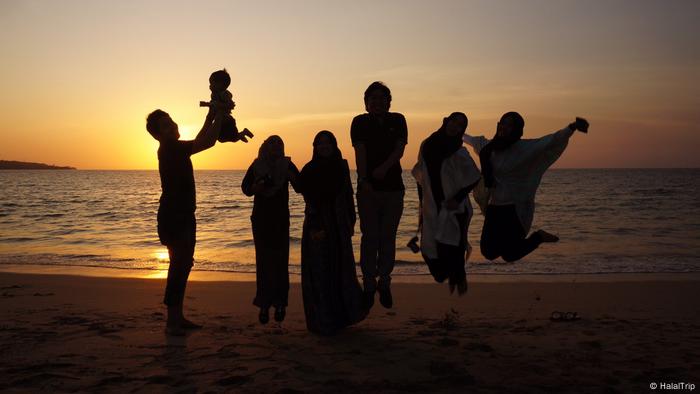 Does a travel market catering to Muslims prevent the travelers from getting to know the destination country and its culture?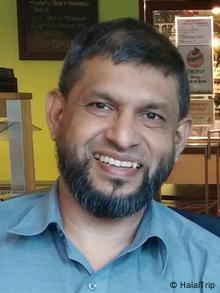 Fazal Bahardeen
No, that is absolutely not true. No Muslim tourist goes to London, Munich or Berlin to spend time in the hotel doing prayers or eating halal food. Muslim tourists want to do what all tourists do: enjoy the city, experience the culture, have fun. At the same time they do not want to worry about fulfilling their basic faith-based needs. They want to enjoy their holiday and not, for hours, look for the right food or a place to pray.
You are moderator of the event Halal Tourism at Berlin's world leading travel trade show, the ITB. What do you expect from coming to the ITB?
The only way to change the negative perception of Muslims is to talk to people. Some seem reluctant to even look at the Muslim travel market and so being at the ITB is a good opportunity to explain the market and help people understand it better. The travel industry is about understanding your customers; if you want to have more Muslim customers you need to cater to them.
What is important for practicing Muslims while traveling?
I am a practicing Muslim and I used to travel a lot for work. I often had difficulties to find halal food and a place for my five daily prayers. Most of the time, the hotels' staff did not even understand my questions. I realized there is a market for Muslim travelers. That is why I founded CrescentRating. Our ratings show how much service the hotels offer for Muslims. The idea behind HalalTrip was to create a website which is similar to TripAdvisor, but for Muslims. On HalalTrip you find information and tips about various destinations and you can also book Muslim-friendly hotels.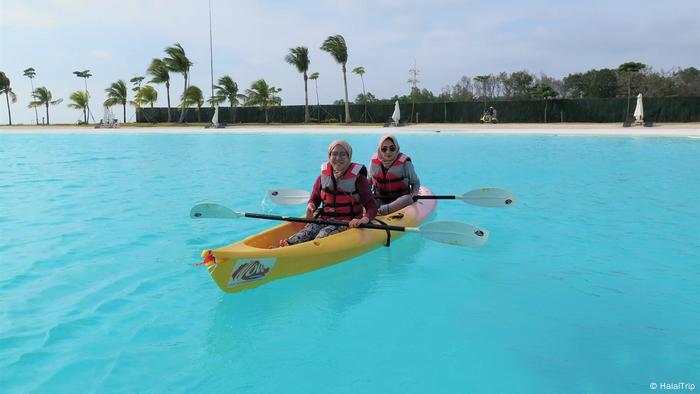 Kayaking in the Crystal Lagoon on Bintan Island in Indonesia
The US has issued travel bans for people from different Muslim-majority countries. Now the numbers of tourists from the Middle East are declining. Does that surprise you?
No, not at all. The US was always a small market and now the numbers are declining even more. As a holiday maker you have huge amount of options. Nobody wants to go to a place and spend their money if they do not feel welcome. There are also incidents in Europe, like the burkini ban in France that can enforce the Muslims' perception of not being welcome.
Fazal Bahardeen was born in Sri Lanka. Before founding CrescentRating in 2008 and HalalTrip in 2015 he worked as manager for a French telecommunication company. CrescentRating und HalalTrip are based in Singapore.
This interview was conducted by Lina Elter.