Eighteen months after a high school massacre, the 51-year-old father of the perpetrator has gone on trial in Stuttgart accused of breaching Germany's gun law safeguards. Prosecutors allege that businessman Joerg K. left his handgun unsecured in a bedside cupboard, instead of keeping it locked away inside his weapons cabinet.
His son Tim K., then aged 17, took the large-caliber Beretta pistol from his parents' bedroom, together with 258 bullets, and then shot dead nine pupils and three teachers at his former school, Albertville College, at Winnenden in southwestern Germany on 11 March, 2009. He fled in a hijacked vehicle and shot dead three passers-by, and finally himself, when located by police at a car lot several hours later.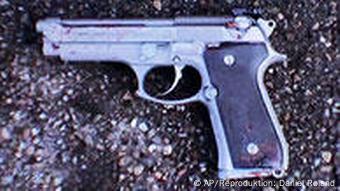 The murder weapon used by Tim K.
Bereaved relatives press charges
Appearing as joint plaintiffs at one of the largest trials in the history of Stuttgart's Regional Court are 41 relatives of the pupils murdered. They and their lawyers are allowed to pose questions and make statements in court.
Since the Winnenden killings, the relatives have campaigned as a group for tighter control of Germany's estimated ten million registered guns that are owned by hunters, sport shooters, traditionalist militia club members and collectors.
The hearing is expected to be spread over 27 trial days, with testimony from 40 witnesses, including two psychiatrists, as well as police and medics who dealt with the carnage. Tim K.'s rampage also left 13 people wounded.
Father facing negligence charge
Stuttgart's general public prosecutor Klaus Pflieger had insisted on the public hearing in order to deter laxity among gun owners after state attorneys initially suggested a brief gun law hearing and possibly just a fine would be sufficient.
Grieving relatives had been outraged when Stuttgart's juvenile court initially disallowed more severe charges of negligence against the father, which would have held him responsible for causing manslaughter and bodily injury, the reasoning being that Tim K. had also known the password to his father's safe.
That finding, however, is not binding on the Regional Court. When the trial opened on Thursday the charge of negligently abandoning a firearm was part of the prosecution's submissions. A defense lawyer said the accused father faced up to one year in jail for a weapons offence and up to five years if convicted of negligent manslaughter.
Gun laws tightened
In the aftermath of Winnenden, parliament reacted last year by tightening Germany's gun ownership laws, including the introduction of spot checks, and the separate storage of guns and munitions, declaring an amnesty that pulled in 200,000 illicit weapons, and drawing up a plan to establish a centralized registry of licensed weapons by 2013.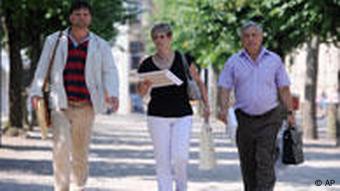 Supporters of stricter laws for sports weapons on their way to the Constitutional Court
The German police officers trade union, DPolG, says gun ownership details are currently scattered through the databases of 577 police and communal authorities. They have no common data network. Once installed, the new system will also list each gun's manufacturer and, if relevant, who imported the weapon into Germany.
Spot checks expose flaws, say critics
Bereaved families and the opposition Green party say those measures do not go far enough. Last June, a Winnenden-based citizens' group handed Bundestag officials a 185,000-signature petition calling for a ban on large-caliber weapons held by private individuals and the confinement of smaller weapons to the premises of Germany's numerous shooting clubs. Some campaigners have gone further by calling for the banning of all sports weapons and so-called "killer game" software that simulates armed combat. In July, two parents lodged a formal complaint with Germany's top court, saying "sports weapons" breach the guarantee of bodily inviolability anchored in Germany's constitution.
Green party leader Cem Oezdemir, who comes from the Baden-Wurttemberg region where the Winnenden rampage took place, on Thursday accused Chancellor Angela Merkel's government of bowing to the "gun lobby" and failing to front up to gun ownership risks.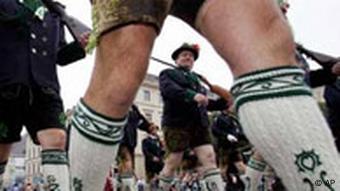 A traditional shooting club march at Munich's Oktoberfest
Oezdemir told the Frankfurter Rundschau newspaper that newly-introduced spot checks on owners and their guns had exposed numerous irregularities in "between a third and half of the cases." It was still too easy to obtain a license and a gun in Germany, he said. Earlier this year, the DPolG police union said that, aside from licensed guns, there were millions more unregistered.
Conservative Christian Democrat (CDU) parliamentarian Guenter Lach recently said the Greens' demand went too far by placing traditional shooting clubs and hunters under general suspicion. On Thursday, a leading CDU representative on the Bundestag's internal affairs committee, Reinhard Grindel, told German public radio that preventive elements of the law change had contributed "a lot." He added, however, that local authorities should assign more personnel to do spot checks.
Who is responsible?
At the start of Thursday's trial, joint plaintiff Gisela Mayer said the question of responsibility was a key issue: "We will have to clarify what responsibility does the state bear for its citizens and what responsibility do parents bear for their children?" Those who do not safeguard their weapons must take responsibility for the consequences, she said. Gisela Mayer's 24-year-old daughter was a trainee teacher shot dead by Tim K. in March last year.
Author: Ian P. Johnson (epd/AFP/dpa/Reuters)
Editor: Susan Houlton