Militants attacked an upscale office and hotel complex in Kenya's capital Tuesday, sending people fleeing in panic as explosions and heavy gunfire reverberated through the neighborhood.
As of early Wednesday, some 12 hours after the attack began, at least 15 people had been killed according to unnamed police and mortuary sources quoted by news agencies Reuters and the Associated Press.

The Somalia-based extremist group al-Shabab is claiming responsibility for the attack. The al-Qaeda-linked group issued the claim via its radio arm, Andalus.
"We can now confirm that this criminal activity commenced at about three o'clock in a coordinated fashion and began at I&M Bank with an explosion that targeted three vehicles in the parking lot, and a suicide explosion in the foyer of Dusit hotel," said Kenyan police chief Joseph Boinnet.
The complex in Nairobi includes a large hotel known as DusitD2, banks and offices. Several vehicles were seen burning.
Ambulances, security forces and firefighters rushed to the scene with sirens wailing. A large group of women was rushed out by security forces, one woman still in hair curlers. Other groups were hurried away as plainclothes officers went shop to shop in the complex.
More explosions
More explosions and gunfire were audible at the DustiD2 complex early Wednesday morning despite authorities saying the building was secure.
The sound of gunfire came as several survivors who had been holed up in the complex overnight were freed.
Kenya's interior ministry had tweeted early Wednesday morning that security forces were still "mopping up" the scene, but that the buildings were secure.
Authorities have not yet announced the fate of the attackers. Security footage showed at least four men storming the hotel on Tuesday afternoon.
Westgate Mall recalled
The attack immediately brings to mind for many Kenyans the Westgate Mall attack in 2013, when al-Shabab extremists burst into the luxury shopping center, hurling grenades and starting a days-long siege that left 67 people dead.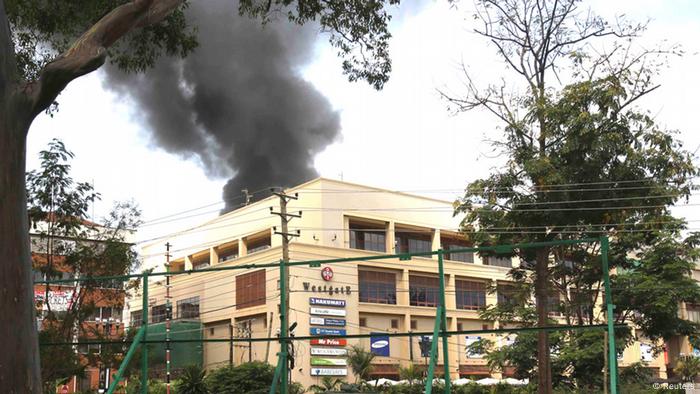 Kenyans recall the attack on the Westgate Mall
The Islamist terrorists said the siege was in retaliation for the Kenyan military's involvement in fighting the Islamist group in Somalia. Upon entering the shopping center, the militants reportedly specifically targeted non-Muslims.
dv,av/se (AFP, AP, Reuters, dpa)
Each evening at 1830 UTC, DW's editors send out a selection of the day's hard news and quality feature journalism. You can sign up to receive it directly here.