"I don't believe in letters that don't arrive," Marcel Proust wrote to his friend Lucien Daudet in 1916. Such missives were penned at a furious pace: Experts estimate that the French author wrote about 90,000 letters throughout his life, of which only a fraction are known to the public.
Sotheby's auction house in Paris is selling a number of the author's letters, notes and manuscripts on Thursday. The original documents give insight into the life of a great intellectual who kept writing, despite years of illness.
His monumental work
In his famous seven-volume novel, In Search of Lost Time, Proust declares that true life is literature. Originally published in French as À la recherche du temps perdu, the masterwork was published from 1913 to 1927, with the last three volumes released posthumously. The strongly autobiographical novel follows the narrator's recollections of childhood and becoming an adult.
While Proust is best-known for his literary epic, his oeuvre includes other books and thousands of letters that he began writing at the age of 17.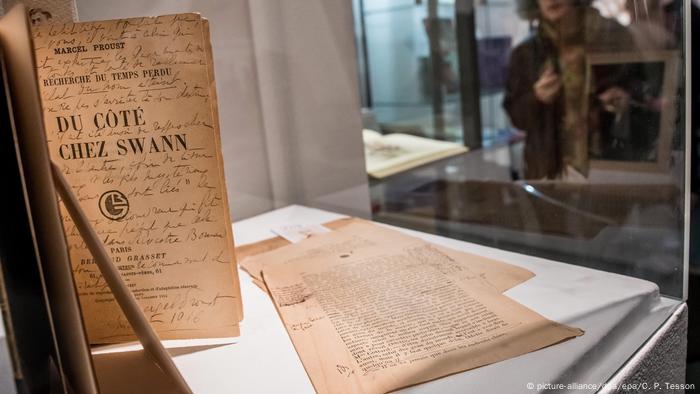 An original copy of the first volume of his 3,200-page work signed by Proust was auctioned in 2016
Gaining access to the Parisian salons
Valentin Louis Georges Eugène Marcel Proust was born into a wealthy family, with his father Adrien Proust a professor of medicine and a doctor and his Jewish mother Jeanne hailing from a family of successful financiers.
In his early 20s, Proust became increasingly acquainted with the Parisian nobility and frequented the salons of the city. His wit made him popular among Parisian high society, but Proust felt ambivalent about these elitist circles. While fascinated by their upscale lifestyle, he too wrote satirically about high society customs for the French daily, Le Figaro.
Self-marketing genius
After finishing his law studies at the Sorbonne in Paris in 1893, Proust volunteered for a time as a librarian in the Bibliothèque Mazarine, France's oldest public library.
But it's said that the job was largely an alibi for Proust's own literary work. The wealthy young writer hardly had to worry about money. He could even afford to pay the equivalent of several thousand euros for positive reviews of his books.
As experts have meanwhile revealed, Proust even wrote reviews himself for the first volume of In Search of Lost Time, describing for example his own writing style as "almost too luminous for the eye."
In 1919 he received France's top literary prize, the Prix Goncourt, for the second part of his epic. He is still considered one of the most important early modernist writers.
Lovers turned friends
Proust's first great love was the composer Reynaldo Hahn, who also set his poems "Portraits of Painters" to music. While they were together for a couple of years, the men remained closely connected throughout their lifetime.
Numerous letters signed by Proust testify to his intimate relationship with Hahn, including one for sale at the Sotheby's auction. Dated from March 1896, Proust wrote to Hahn in the letter: "I want you to be there all the time but as a god in disguise that no mortal would recognise."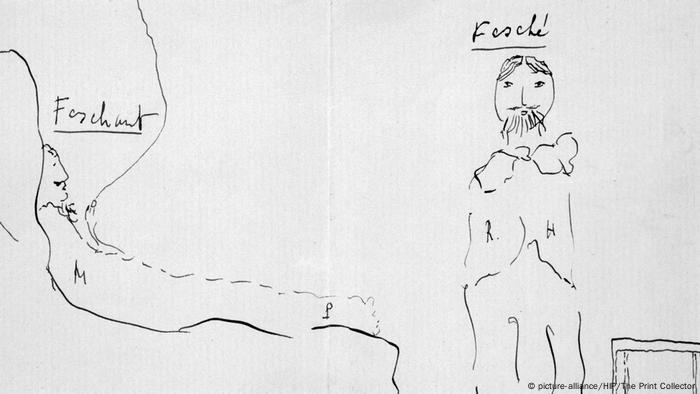 Marcel Proust's Self Portrait with Reynaldo Hahn
There were already allusions to Proust's homosexuality in early letters written to two of his classmates. Throughout In Search of Lost Time, the novelist also refers to questions of sexuality without ever admitting he was gay himself. This was only made public after the death of Proust when his correspondence with writer André Gide was published.
Plagued by illness
Marcel Proust spent most his life in poor heath. He had his first asthma attack at the age of nine. In 1903, the death of both of his parents within two months plunged the then 34-year-old into a severe depression.
Proust and his mother had a particularly close relationship. The narrator of In Search of Lost Time describes how it was impossible for him to fall asleep as a boy without a goodnight kiss.
In his grief, Proust progressively retired from society. He started working on his monumental epic in 1909, writing most of the seven volumes while bedridden with asthma.
"I've lived lying down for 15 years," he complained in one of his letters. Marcel Proust died on November 18, 1922 at the age of 51.