At the end of the 1970's, David Bowie -- one of the biggest rock stars in the world -- made his home in a relatively normal apartment in Berlin. The three records he produced during that time are considered some of his most innovative, and they spawned the song most closely associated with the Berlin Wall. But Bowie's Berlin adventure didn't begin auspiciously.
DW-WORLD.DE: David Bowie was pretty much a wreck when he moved from LA to Berlin in 1976.
Tobias Ruether: His rock'n'roll lifestyle had pretty much reached its zenith. He'd been taking a lot of drugs and living the sort of intoxicated life you'd imagine for a rock superstar. He's always wanted to go to America and enjoyed it -- until he realized it wasn't good for his health at all. And that was combined with an interest, as many rock stars had at the time, in the dark side. He was in love with the supernatural. But he woke up at some point, and from the fog of his hallucinations, a destination began to emerge -- a place where he was going to try to save himself. And that was Berlin.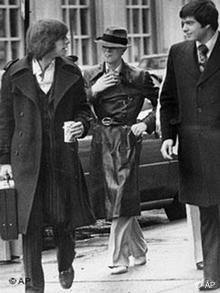 The Thin White Duke was very thin, indeed, when he left the US for Berlin in 1976
As you describe at the start of your book, Bowie also maintained an unhealthy fascination for fascism, didn't he?
It was part of his hallucination. He said during the time that Hitler "staged a country." And in the drug-induced megalomania of someone who thought of himself as a rock'n'roll messiah, he recognized something of a mirror image of himself in Hitler. He once said, "I would have been a damn good Hitler." Later he himself said he wasn't completely in possession of his senses.
Berlin cured him of that fascination -- what was the city like in the mid-1970s?
It was the point at which the two sides of the Cold War collided like nowhere else. When he came in 1976, the Wall was only 15 years old. The situation had been regulated, but it was still the place where the two systems butted heads. On the other hand, West Berlin was like a very well-financed island. It had something idyllic. Contemporaries reported, for example, that there were never any traffic jams in Berlin. And at the same time it was surrounded by the most dangerous situation in the world since World War II. It was this strange, mixed situation that inspired him so much.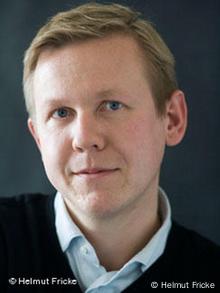 Ruether has thought long and hard about Bowie'as enormously productive time in Berlin
How would you characterize the differences in Bowie's music before he moved to Berlin and his three Berlin records: Low, "Heroes" and Lodger?
In America Bowie was obsessed with black music, with funk and soul. But on his last record in the US, Station to Station, the title song has a repetitive aesthetic that his Berlin records would have. But the radical difference is that Station to Station, has something crooner-like, Sinatra-esque. Low, his first Berlin record, is auteur music. It breaks with all the traditional rock formats. And on side two, when he no longer sings, the break becomes decisive. You have to imagine -- David Bowie, a superstar interpreter of songs, simply stops singing. That's the most radical break you can imagine in the '70s. No other artist of his stature did that.
But his biggest hit from his Berlin period was Heroes, a melodramatic anthem that wasn't about aliens or spacemen, but about two lovers kissing by the Wall. How seriously did the notoriously ironic Bowie mean that song?
I think the concept of "meaning something seriously" doesn't apply to David Bowie. He said himself during that period, "This is the closest you can get to David Bowie." He also said that the guy who was making those records could possibly be David Bowie. The connection with Ziggy Stardust or "Space Oddity" is that "Heroes" is larger than life. The protagonists are outsiders like Major Tom, and I think they're a metaphor for life on the outside. And the pathos is, to a certain extent, play-acted. It's a song about the Wall, but it's not a protest song. He's writing about two people that meet voluntarily at the Wall because that's where they celebrate their love. I think he probably just liked the image.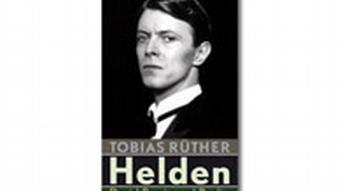 Helden was just published in Germany
Speaking of love, did Bowie love Berlin, or is that another concept that doesn't apply?
I think he felt very, very good in Berlin. He said many times later that he felt more free there than at any other time in his life. He came from Los Angeles, a place where everybody knew him, and in Berlin he's left alone. In LA, he said his paranoia had gotten to the point where he could no longer walk down the street without thinking "David Bowie is walking down the street." He'd started thinking of himself in the third person. In Berlin, he found his way back to himself, and at the same time he had all the things that had fascinated him since childhood in front of his front door: painting, film, Expressionism -- an "old Europe" so to speak. But I don't know about love. He's lived since 1978 in New York. Maybe it would be better to be say that he had an affair with Berlin.
Your book is less a chronology of than a meditation on Bowie's time in Berlin. Why did you choose to write it that way?
I didn't want to write a classic biography or pop-music book. I wanted to shed a bit of light on the figure of Bowie with all the references and things that he was influenced by during his time in Berlin. I wanted to put him back in the world of the 1970s. I didn't want to write a book just for pop fans. I wanted to show Bowie for what he is -- an absolutely radical pop artist. I didn't want to depict him as someone who could be explained solely by his pop music. He remains a mystery to me -- even after writing 220 pages about him.