Thursday's blast in Ludwigshafen also gutted parked cars and created a crater 10 meters (33 feet) in diameter and 5 to 6 meters deep. Police in the western industrial city said they continued to investigate the cause.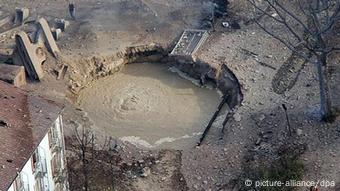 The explosion left a 10-meter crater
The company Gascade announced that workers had attempted to dig down to a buried line near apartment blocks at the time - as well as near a factory site operated by BASF, the world's largest chemicals company, which has its headquarters in Ludwigshafen.
Gascade officials said it remained unclear what had damaged the pipe, a section of a 57-kilometer (35-mile) line that leads southward to the city of Karlsruhe. Police said that rescuers had managed to extinguish the main blaze at the site by the late afternoon, as well as control the smaller fires.
In September, an explosion at a chemicals plant in the northern town of Ritterhude damaged dozens of homes.
mkg/jr (AFP, dpa, AP)