Elena Selishev is screaming at the top of her lungs. Together with other asylum seekers and illegal immigrants, she's come to the European Parliament in Brussels to voice her anger about the EU's deportation policy. For the past eight years, she's been waiting to hear about her application for asylum.
"It's unbearable -- especially for my three children," said the 35-year-old woman from Uzbekistan. "They finally want to get proper documents and lead a normal life."
The rules of waiting
Selishev and her husband, Konstantin, came to Belgium in 2000 and applied for asylum. The couple felt persecuted in their home country and exposed to criminal violence -- that's the extent of the information they're willing to give.
The Belgian authorities rejected their application and the appeal is still pending. That's why the family has been waiting -- in a reception camp for asylum seekers in the Flemish town of Lanaken, not far from the Dutch border.
The family shares a 15 square meter (161 square feet) room. The rules are strict: Visitors are not allowed to enter the building; food is served at set times in the cantine; working outside the camp is forbidden.
Treated like a criminal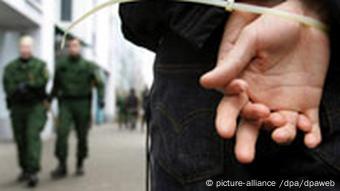 Is this the only way authorities can handle young asylum seekers?
Selishev's children are shy. They stopped trusting strangers last November, when the police picked up the family from their apartment and even handcuffed the 14-year-old son, Nikita, Selishev said.
"He had to empty all of his pockets," she said, adding that he's been scared ever since. "They treated him like a criminal."
Konstantin Selishev had been stopped by police while walking on the street. He wasn't carrying his papers on him and was therefore declared an illegal immigrant. Together with his entire family, he was brought to a deportation prison at Brussels airport -- and remained there for two months.
"It was horrible," Nikita said, adding that they had to share a room with 20 other people, many of whom smoked. "It was difficult for us to sleep."
They were only allowed to leave the room once a day at noontime -- for 10 to 15 minutes.
Will changes help?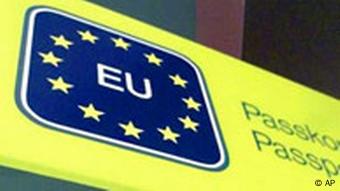 Entering the EU won't become easier with the new directive
The European parliament is now calling for an end to these inhumane conditions, especially for children. A new "return directive," which is expected to be passed by lawmakers in the first week of June, will specifically address the needs of children.
"They have to get access to education and the family has to be able to stay together as a unit," said Manfred Weber, an EU parliamentarian and member of Bavaria's conservative Christian Social Union.
Despite the plans to protect children, nongovernmental organizations have criticized the directive. They say that it would expressly give authorities the right to detain children for up to 18 months. Child protection experts in Belgium, for example, worry that while most people still see deportation detention as inhumane right now, this might change once it becomes law.
The Belgian government currently plans to set up special prisons for families, where children can be looked after by a tutor and attend school.
The Selishevs were actually released from detention after two months after the authorities discovered that they had made a mistake. Since the family's asylum application is still pending, it was illegal to arrest them.
All the Selishevs can do now is to hope and wait for a positive decision. That's the only thing that can save them from being detained yet again -- and deported.