After Thursday's bomb attacks on London, in which one person was injured, tetchy relations with France were put to one side and the European Commission vowed to press for anti-terrorism measures across the bloc.
"This second attack unfortunately confirms that terrorism constitutes a permanent threat from which nobody is safe," the European Commission said in a statement. "It is also vital to focus on measures which aim at preventing terrorism and particularly preventing young people from becoming radicalized."
The European Union has a strategy to fight terrorism, it said. "We need to implement this without any delay."


French President Jacques Chirac, who had swept aside Franco-British squabbles over the future of the European Union to support Blair after the deadly July 7 attacks on London, reiterated France's solidarity with Britain.
"I wish to express to the British people and to Prime Minister Tony Blair the solidarity and support of France, and I want to reiterate our determination to fight terrorism together," he said during an official visit in the Madagascan capital Antananarivo.

Increased vigilance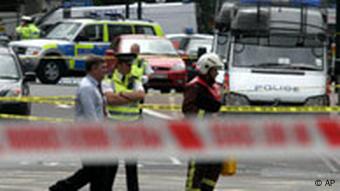 Police and emergency services outside Oval Tube Station on Thursday
Other countries railed against the attackers.
Irish Foreign Minister Dermot Ahern condemned the attempt to "strike fear and terror" into the community. Ahern said he had no doubt the British government would actively pursue those who carried out the attacks and bring them to justice.
"Those responsible should know that they will not deter the international community from combating terrorism vigorously and uncompromisingly wherever it occurs."
Spain, where over 200 people were killed in terrorist bombings in Madrid last year, announced it was reinforcing its border controls following the London attacks.

Foreign Minister Abdullah Gul of Turkey, whose country has also been targeted in bomb attacks, said "we condemn terrorism wherever it strikes and whatever its goals are."

Similarities to earlier attacks

Thursday's attacks appeared to mirror the bombings in the city two weeks earlier, though they seem to have been smaller. Three underground trains were targeted and one bus. The blasts in the underground occurred almost simultaneously. An hour later the driver of a double-decker bus heard a bang on the vehicle's top deck, followed by smoke, and found some of the windows had been blown out.
Police said the attacks were meant to kill people, but they had gone awry.
"Clearly the intention must have been to kill. You don't do this with any other intention," said police chief Ian Blair."
Terrorist experts have said the loud, popping bangs heard by some witnesses indicated the bomb detonators might have gone off without triggering the main explosive blasts.