A European court in Luxembourg on Monday upheld the Berlin Zoo's copyright claim against a British firm that had sought to market products under the name "Knut – The Polar Bear" (German "Knut - Der Eisbär").
The General Court of the European Union ruled that the British firm Knut IP Management Ltd.'s product-line name too closely resembled the Berlin Zoo's earlier trademarked brand "Knud," and would be confusing for customers.
Knut was rejected by his mother after his birth in 2006 and the zoo had initially decided to have him put down. The public outcry that followed triggered a rethink and the cub was raised by a a zookeeper named Thomas Dörflein, who fed Knut from a bottle and played with him, posing for camera teams from around the world.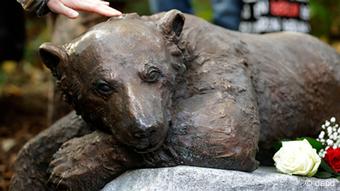 A monument to polar bear Knut was unveiled at Berlin Zoo in 2012
The cuddly bear became famous, appearting on on magazine covers and on a postage stamp as well as in a film and on a large variety of merchandise, earning the zoo millions of euros.
As Knut grew up public interest waned. Thomas Dörflein passed away four years ago.
Knut himself then died in 2011 after suffering from encephalitis. He is now on display as a mounted specimen in Berlin's Museum of Natural History.
rg/msh (AP, epd, dpa)