After more than four years of planning, four European rival aerospace and defense companies have agreed to take their joint information technology project to the next level and launch a new commercial service, called BoostAeroSpace.
The founders are the European Aeronautic Defense and Space (EADS) company, including its huge Airbus subsidiary, as well as Dassault Aviation, Safran and Thales. Within the group, however, Airbus is treated as a fifth founding member, having agreed to contribute to 20 percent of the costs.
With their common electronic hub, the European companies aim to coordinate the flow of information in the design, development and manufacturing of their various aerospace and defense systems as well as their procurement and logistics tasks with suppliers worldwide. The group hopes to migrate most of their suppliers to the hub by 2012.
Web-based supply chain management
BoostAeroSpace mirrors the successful Exostar electronic platform launched a decade ago in North America by Boeing and Lockheed Martin of the United States, and Rolls-Royce and BAE Systems of the United Kingdom.
For nearly a year, the European manufacturers have been using a common Web-based supply chain management solution provided by SupplyOn, which offers a range of collaboration tools to the manufacturing industry. The solution, to be called AirSupply, will form one of three core services, including the collaborative workspace AirCollab and the design and engineering portal AirDesign.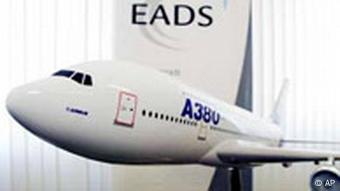 EADS is one of the founders of the BoostAeroSpace electronic hub
"Cloud computing" and "software as a service" are two buzz-terms that will play a big role at BoostAeroSpace, as they already do at the venture's counterpart in the US, according to Matthias Naumann, senior vice president of global information services at EADS.
Providers of cloud computing services, for instance, run and manage their own network of servers and allow customers to access and use these computing resources via the Internet. Software as a service, also known as "software on demand," is a service delivery model that allows customers to access the Internet to use business applications installed and maintained on remote computers and to pay according to usage.
"With SupplyOn and their expertise in the automotive sector, we're bringing the experience of a service provider that deals with software as a service for multiple customers and multiple suppliers together with our own individual supply portals," Naumann told Deutsche Welle.
More than 7,500 companies currently use SupplyOn's global network, including BMW and Continental, which are both shareholders, as well as BorgWarner, Schaeffler and Yazaki. The service provider is based in Hallbergmoss near Munich.
Aerospace and auto industries similar
Mark Morely, industry marketing director at GXS, which provides an electronic collaboration platform of its own for suppliers, said there are "many similarities between the aerospace and automobile industries" and "many suppliers provide parts to both" so having a link between the two makes good business sense.
Engineers can share design data over the European aerospace and defense electronic hub
More than a decade ago in the US, Covisint launched an electronic platform for the automotive sector. But the service failed for a number of reasons, including the bursting of the Internet bubble, the financial troubles of the US car industry and a general lack of agreement on standards. The venture has meanwhile relaunched as a provider of cloud computing services to the health care and automotive sectors, among others.
Exostar has maintained a clear focus on the aerospace and defense sector – and has been successful, according to Morely. "Exostar's success stems in part from a huge investment from its founders but primarily from defense contracts that can run for more than a decade," he told Deutsche Welle.
Possible collaboration
Naumann doesn't view Exostar as a competitor but rather as a counterpart and envisions collaboration down the road. "We'll find common formats to connect between each other," he said. "There is no reason at all to compete."
The IT expert admits that even though BoostAeroSpace comes nearly a decade after the launch of Exostar and other similar electronic hubs, the European venture can benefit from advances in technology, such as cloud computing, and from the experience of other service providers.
Morely, who would also like to connect the GXS electronic hub to BoostAeroSpace, says the timing is right for the Europeans to push for greater collaboration.
"The aerospace industry is truly global in nature," he said. "Boeing's 787 Dreamliner and the Airbus A380 are manufactured in many places around the world. Those pieces are brought together in one center location."
A collaboration portal, he added, can save not only a lot of money but headaches, too.
Author: John Blau
Editor: Nicole Goebel