Europe is now the second largest illicit market in the world after the United States.

A two-day informal meeting of European drug commissioners begins in Berlin Monday, two days after the interior ministers of the EU's six largest countries agreed on closer cooperation with Africa in the fight against drug smuggling from South America at a meeting in Venice.

The Venice meeting followed the three-day International Drug Enforcement Conference in Madrid last week which was hosted by the Spanish government and the US Drug Enforcement Agency (DEA), Washington's top anti-narcotics agency.

The talks on Saturday were attended by EU Justice Commissioner Franco Frattini, the interior ministers of Germany, Britain, Poland, France, Spain and Italy, and United States Secretary of Homeland Security Michael Chertoff. All supported the idea of sending European investigators to West Africa as part of a new drive against the smugglers.

"We have agreed to cooperate with African countries in the effort to block the new routes of Colombian cocaine to Europe," said Spanish Interior Minister Alfredo Perez Rubalcaba.

The initiative to open a new front against the traffickers coming through Africa comes hot on the heels of an agreement to set up a new European body that will share intelligence and coordinate police seizures of cocaine and cannabis on the high seas. Coordinated by Britain, France, Ireland, Italy, Portugal, Spain and the Netherlands, the body will be officially established in Lisbon later this year.

Europe offering high profit margins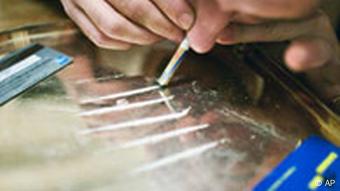 Much of Latin America's output lands on European mirrors
Roughly 80 percent of cocaine from Latin America that was destined for markets outside of the United States in 2005 was bound for Europe, according to DEA estimates.

International drug trafficking rings have been drawn to the European market because of the higher prices paid for cocaine on the continent. Last year wholesale prices for cocaine in the European Union ranged between 28,000 and 56,600 euros ($38,000 and $77,000) per kilogram compared to between $9,000 and $40,000 in the United States where the supply is higher, according to the DEA.

"The potential for this high profit margin has increasingly lured Colombian traffickers to European markets," DEA director of operations Michael Braun said during his testimony before the US Congress last year.

Africa is increasingly being used by criminal gangs as a hub for shipping Latin American cocaine and Asian heroin into Europe.
Consumption of cocaine and hashish is also on the rise in Africa, Spanish Secretary of State for Security Antonio Camacho said at the International Drug Enforcement Conference on Thursday. "This is an issue which is very worrying because of its regional and global implications," he said.

Spain the coke gateway to the EU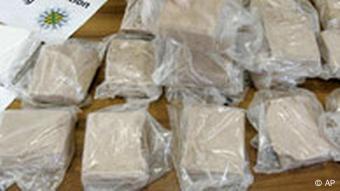 Coke ending up in the EU invariably comes through Spain
Trafficking groups are taking advantage of weak governments in African nations as well as their historical ties to Europe to smuggle drugs into the continent. Spain has become the main gateway for Latin American cocaine and North African hashish into Europe and has set up its own robust fight against drug smuggling.

Spanish officials seized over 40 tons of cocaine last year, a record amount and more than any other nation in the world except for Colombia, the United States and Venezuela, Camacho said.

"Spain has a serious problem regarding rising drug consumption and I think it is in the interest of us all to cooperate more to fight drug trafficking, which in the case of Colombia is totally linked to guerrilla groups and violence," Colombian Defense Minister Juan Manuel Santos told reporters in Madrid.

"Cocaine is surging in Europe at levels similar to what America experienced in the 1980s," the head of the US Drug Enforcement Administration, Karen Tandy, said at the three-day event in Madrid.

Low costs drive high consumption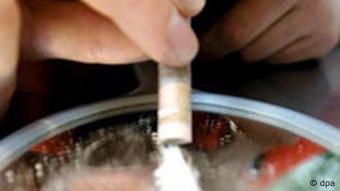 European coke consumption is at a historical high
Around 10 million Europeans, or over three percent of all adults, have used cocaine at least once in their lives, a historically high figure, according to the European Monitoring Center for Drugs and Drug Addiction (EMCDDA).
Britain and Spain posted the highest rates of use, with over four percent of adults reporting having consumed the drug over the past year compared to an average of around one percent of adults in all of Europe. Use is concentrated among young adults, especially men, in urban areas.
A substantial drop in price has contributed to the increase in usage. The price of cocaine on Europe's streets fell by 22 percent between 1999 and 2004, according to EMCDDA.
The supply of cocaine in Europe has increased since the late 1990s leading to lower prices and this, combined with its association to a supposedly glamorous lifestyle, is fueling its growing use, drug experts say.
"Cocaine is very much associated with success, urban lifestyles, a party atmosphere," EMCDDA analyst Julian Vicente told
AFP
, before adding cocaine was now the second most used illegal drug in Europe after cannabis.