The threat from the European Commission comes as the United States and EU governments are rushing to prop up their auto industries in the midst of the worst economic crisis in 60 years.
"We have no interest in the collapse of the US car industry, but what happens there to help them must follow international rules," EU Industry Commissioner Guenter Verheugen said on Wednesday, Feb. 25. "We will not hesitate to take the necessary steps if that should not happen."
The Brussels-based executive will make sure that national governments stick to the rules on fair competition "both inside and outside the (EU) single market," he stressed.
US automakers GM and Chrysler have already received $17.4 billion (13.7 billion euros) in emergency government loans, but said on Feb. 17 that they would need nearly $10 billion in additional federal aid over the coming months if they were to turn the corner.
On the same day, GM said that it would sell its Swedish-based subsidiary, Saab, and could do the same with German subsidiary Opel. Saab filed for bankruptcy protection three days later, while Opel has asked the German government for an estimated 3.3 billion euros in loan guarantees.
GM to blame for Opel's woes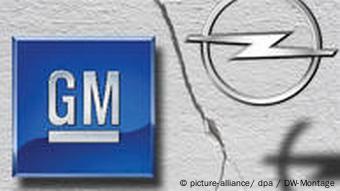 Bungling at US headquarters has wrought bad times in Germany
Verheugen said the commission intended to protect GM's European subsidiaries, adding, "We do not believe that you can solve the overcapacity problem by throwing the weakest people off the sledge."
But he also stressed that any aid to Opel would have to be accompanied by thorough restructuring plans, placing the blame for the situation squarely on GM.
"The problems do not simply stem from the sales crisis, they are the result of years of management failure in the (GM) headquarters in Detroit," he said. "The European tax-payer cannot foot the bill for it just like that."
Thousands of Opel employees had gathered to demonstrate on Thursday, to call for the German company to become independent of its troubled American parent. Opel is also expected to unveil a new business plan this week amidst speculation that it might look for government support, perhaps even combined with independence from GM.
Lobby wants to increase demand for cars
The car industry accounts for some 12 million jobs across Europe, but it has been especially hard hit by the global economic crash, with new passenger car registrations in January slumping by 27 percent compared with the same month last year.
New-car registrations plummeted sharply in January
On Wednesday, the European car manufacturers' umbrella group, ACEA, called on the EU to protect the industry by allowing state lending support, boosting funding by the European Investment Bank and bringing in measures to encourage consumers to buy new cars.
France, Italy, Spain, Britain, Germany and Sweden have all launched plans in recent days to support domestic car makers.
Strings being attached
Concerns have, however, arisen over clauses such as a French condition that any company that receives state aid should promise not to close its factories in France.
Such a clause would break the EU's rules on the free movement of companies, and could force the closure of French-owned factories in other EU member states, commission officials have warned.
"You can't be a believer in the single market for car sales and on the other hand say 'I'm not a believer in the single market for production'," EU Competition Commissioner Neelie Kroes said.
On Tuesday, French President Nicolas Sarkozy defended his policy, saying he had been forced to launch it because the EU had failed to approve a Europe-wide support scheme.
But a report in Wednesday's edition of French daily Le Figaro suggested that Paris was prepared to back down on the clause.
Author: Sean Sinico (dpa, reuters)
Editor: Jennifer Abramsohn