Speaking in Brussels on Wednesday, Fayyad, a respected independent and a former senior World Bank official, warned that the Palestinian coffers only had about a quarter of the funds required for 2007, a shortfall of around a billion euros ($1.3 billion).
"These are very difficult times for the Palestinian people," he told reporters at a joint press conference with EU External Affairs Commissioner Benita Ferrero-Waldner. The Finance Minister added that if the international community did not come to the aid of the Palestinians, the outcome would be "devastating".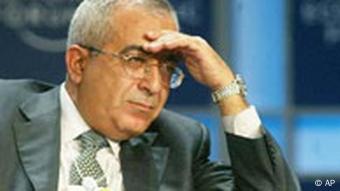 Fayyad warns that lack of aid is devastating for the Palestinians
Palestinian and European diplomats said the meeting itself was a sign that the EU was willing to give the new finance ministry a chance.
The EU was the biggest aid donor to the Palestinian government until the Hamas militants came to power in March 2006. The Quartet of Middle East mediators -- the European Union, United States, United Nations and Russia -- then suspended direct aid to the Palestinian authority.
EU bypasses unity government
Since then, the EU has redirected its funding, which reached 700 million euros in 2006, through a special mechanism to help the neediest people while bypassing the government to avoid contact with Hamas -- which is considers a terrorist organization.
At the Brussels press conference, Ferrero-Waldner said this temporary mechanism would continue but offered Fayyad technical assistance to get his finance ministry in order.
She also repeated the international demands that the Palestinian government renounce violence, formally recognize Israel's right to exist and abide by former agreements. Ferrero-Waldner said until that happened the EU would only deal with what it considered to be Western-friendly members of the new Palestinian Fatah-Hamas unity government, which took power in March this year.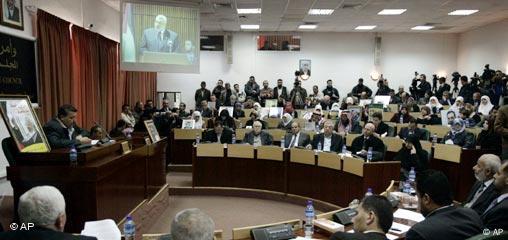 Lawmakers voted last month for a new unity government
Ferrero-Waldner said she could "imagine informal exploratory talks" with Foreign Minister Ziad Abu Amr, who, like Fayyad, is an independent.
Fayyad, who as finance minister under the previous Fatah government won praise for his reform of Palestinian finances, said the unity government was committed to a platform to abide by "all the agreements entered into".
Fayyad also met with the EU's Middle East peace envoy, Marc Otte, and European Parliament leaders. He is set to travel on to Norway, which brokered an Israeli-Palestinian peace deal in 1993, and then onto Washington.