At least 10 European states, including Britain, Poland, Italy and Germany aided or knew about the CIA's clandestine program of taking terrorism suspects to other countries for interrogation, the report said.
It ended a year-long investigation by a special European Parliament committee. The text, adopted by 28 votes in favor, 17 against and three abstentions, criticized EU states for a failure to fulfill "European obligations, such as the respect of human rights."
More than 1,245 CIA-operated flights flew over European airspace or stopped over at airports in Europe, members of the European Parliament (MEPs) concluded. They urged member states to investigate these so-called extraordinary rendition flights.
US President George W. Bush in September acknowledged for the first time that the CIA was running secret prisons for holding and interrogating high-level al-Qaeda figures who had been captured since the September 11, 2001 attacks.
Allegations that CIA agents shipped prisoners through European airports to secret detention centers, including compounds in eastern Europe, were first reported in November 2005.
EU involvement in torture
EU deputies "condemned the fact that European countries have been relinquishing their control over their airspace and airports by turning a blind eye or admitting flights operated by the CIA which, on some occasions, were being used for extraordinary renditions," the report said.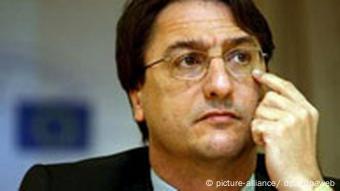 Italian Claudio Fava is a member of the EU investigation committee
Italian Socialist MEP Claudio Fava, who drafted the final conclusions of the probe, told reporters that "involvement in detainment amounts to a certain extent to involvement in torture."
The report, which goes to a vote of the full parliament next month, said that claims that the CIA had a secret prison in Poland were unproven. However, the parliamentarians stressed that Poland was the EU country least cooperative with the parliament probe.
The report also mentioned the EU's foreign policy and security chief Javier Solana, saying that he did not reveal his knowledge about the detention program.
In addition, the MEPs called on the bloc to more strictly monitor data transfer to non-EU countries and the use of European airspace. They also demanded more EU competencies in combating international terrorism.
Human rights organization Human Rights Watch, in New York, responded to the report by saying European countries need to go further to stop their own policies that allow torture to continue worldwide.
In a briefing paper, the non-profit group said EU states used '"diplomatic assurances" to justify returning terrorism suspects to places where they were likely to be tortured. The group said such policies are unreliable, unenforceable and ineffective and do little to protect against torture.
"European governments have used these empty promises as a fig leaf to justify sending people to places where they risk being tortured," Holly Cartner, the group's Europe and Central Asia director, said in a statement.
German failures
The EU committee's final conclusions also accused the former German governmental coalition of the Social Democrats and Greens of failing to work for the release of German resident Murat Kurnaz, who was imprisoned in the US camp at Guantanamo Bay.
German Foreign Minister Frank-Walter Steinmeier -- who was former Chancellor Gerhard Schröder's chief of staff at the time and thus in charge of intelligence -- on Tuesday rejected charges that he had known about a US offer in 2002 to release a German-born Turk from the US military prison at Guantanamo.
Kurnaz was not freed until August 2006, after intervention from the present government led by Chancellor Angela Merkel.
German Chancellor Merkel, right, has backed Steinmeier in the ex-Guantanamo inmate affair
Ahead of a meeting with the European Parliament's Foreign Affairs Committee in Brussels, Steinmeier said that the former German government had repeatedly tried to free Kurnaz.
"On various occasions, we made efforts for a release," Steinmeier said. Charges that the former government had obstructed a release of Kurnaz were "firstly wrong and simply mean," he added.
Kurnaz spent four-and-a-half years at Guantanamo on Cuba after his arrest as a suspected al-Qaeda supporter in Pakistan, shortly after the September 11, 2001 attacks.
But EU lawmakers stressed that "according to confidential institutional information, the German government did not accept the US offer, made in 2002, to release Murat Kurnaz from Guantanamo."
The documents were given to the committee by the German government on the condition of strict confidentiality, Carlos Coelho, head of the special committee, told reporters.