EU Parliament President Hans-Gert Poettering said Wednesday that he is prepared to lead a delegation of European deputies to Iran to study allegations of fraud in the recent election that returned hardliner Mahmoud Ahmadinejad to another four years in power.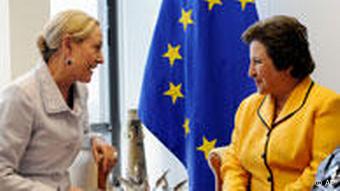 Shirin Ebadi (right) also met with EU External Affairs Commissioner Benita Ferrero-Waldner
His comments came after meeting Iranian Nobel peace prize winner Shirin Ebadi, who has been campaigning for EU countries and other members of the international community to "express their protest" over Tehran's violent crackdown on opposition demonstrators.
"I will recommend to the European parliament political groups to send a delegation of the European parliament as quickly as possible to Tehran," Poettering said after talks with Ebadi in Brussels.
"I have never done this before but this...is so severe and important that I'm ready to go myself as president of the European parliament to show our solidarity with the people in Iran," he said.
Poettering said he had no way of knowing whether Iranian authorities would permit such a delegation to enter the country, adding that he would "follow the diplomatic procedure."
Ebadi also met with EU foreign policy chief Javier Solana while in Brussels, and said she had already asked UN Secretary General Ban Ki-moon to send a special envoy to Iran.
On Tuesday, the Iranian government accused Ban of "interfering" in the country's affairs after he issued a statement calling for an end to violence. Tehran has also accused Western governments, including Britain, France, Germany and the United States, of fuelling anti-government protests.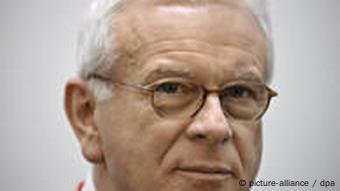 Hans-Gert Poettering has urged the Iranian authorities to respect fundamental freedoms
Poettering rejected such claims, saying that the demonstrations had clearly been "spontaneous."
Ebadi calls for fresh elections
Ebadi has also called for countries to impose political sanctions against Iranian authorities, and for fresh elections to be held under international supervision.
Iran's supreme leader Ayatollah Ali Khamenei said on Wednesday that the regime would not back down in the face of the protests, despite rapidly deteriorating relations between Tehran and the West.
dc/dpa/afp
Editor: Sonia Phalnikar