Many musicians and singers hit the big time in their 20s, and often even earlier. Under current rules, their airplay royalties stop coming in just as they retire, hitting them particularly hard.
That's why the European Commission announced this week that under a new proposal, European musicians and singers would see the copyright on their recorded performances extended to 95 years from the current level of 50.
The EU's move to help ageing rockers and other artists beat the financial blues during retirement would be ready for formal adoption by the European Commission in the middle of the year, the European Union's executive arm said.
"If nothing is done, thousands of European performers who recorded in the late fifties and sixties will lose all of their airplay royalties over the next 10 years," EU Internal Market Commissioner Charlie McCreevy said.
Presenting the proposal, McCreevy said that he had found "no convincing reason" why composers should currently enjoy much longer copyright protection than performers.
Commission moves to protect performers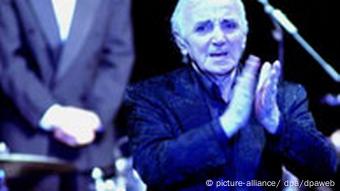 Charles Aznavour won't go hungry in his retirement
"It is the performer who gives life to the composition and while most of us have no idea who wrote our favorite song, we can usually name the performer," McCreevy said. "I strongly believe that copyright protection for Europe's performers represents a moral right to control the use of their work and earn a living from their performances."
In the United States, performers already enjoy copyright protection for 95 years. In the European Union, such protection has been limited to 50 years since the introduction of a 1993 law.
McCreevy acknowledged that he was less worried about big crowd-pullers such as Britain's ageless pop star Cliff Richard and French crooner Charles Aznavour than "the thousands of anonymous session musicians who contributed to sound recordings in the late fifties and sixties.
"They will no longer get airplay royalties from their recordings but these royalties are often their sole pension," he said.
The AEPO-ARTIS association, representing several performer organizations at the European level, welcomed that Brussels had recognized "the creative gain that performers bring."
However, "some things still need to be clarified," said Guenaelle Collet at APOS-ARTIS, citing in particular a proposal that record companies would have to contribute to a special fund for session musicians.
EU to investigate private copying and rights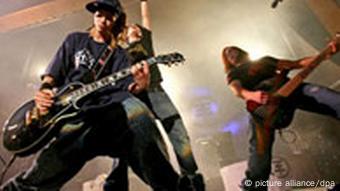 Tokio Hotel can look forward to decades of royalties
McCreevy also said that he wanted to reopen consultations over levies for being able to make copies of a performance on computers, digital and other music players and which vary widely among countries.
"There can be no question of calling into doubt the entitlement of rights holders to compensation for private copying," he said. "At the same time there is a need to look at how the levies are applied in practice."
Collet warned that "performers will be extremely cautious about the question."
While glad that the commission was consulting the industry, Veronique Desbrosses, secretary general of the European Grouping of Societies of Authors and Composers, said: "There's no viable alternative to private copying levies."