When the Chairman of the Nobel Committee, Thorbjörn Jagland, announced the decision on October 12th, 2012 in Oslo, the audience reacted with surprised whispering. But the committee said its decision made sense: The EU deserved the Nobel Peace Prize because "the Union and its forerunners have over six decades contributed to the advancement of peace and reconciliation, democracy and human rights in Europe." And that, according to the committee, was "the EU's most important result."

Many Europeans today increasingly take those developments for granted, in times when the European institutions' daily routine rather consists of struggling with complicated issues concerning the single market, consumer protection, or with rescuing the euro.

But, according to the committee, whether it was the Franco-German reconciliation process after the Second World War, the accession of former Soviet states after the fall of the Berlin Wall, or the European dream for many countries on the Western Balkans, "the stabilizing part played by the European Union has helped to transform most of Europe from a continent of war to a continent of peace."

Decision meant as a warning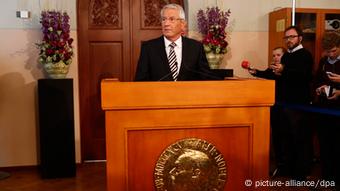 Jagland: EU advanced peace in Europe over six decades
The official EU representatives were delighted by the award and could appreciate the reasoning behind it. EU Council President Herman Van Rompuy went so far as calling the EU "the biggest peacemaking institution ever created in world history." Commission President Jose-Manuel Barroso presented himself as a friend of the common people and stressed that the prize was not only awarded to the EU institutions and member states but also to the 500 million EU citizens.

It was Barroso who wanted to use the Nobel Peace Prize to disperse the troubled mood relating to the EU's debt crisis.

"The award by the Nobel Committee shows that even in these difficult times, the European Union remains an inspiration for countries and people all over the world - and that the international community needs a strong European Union," he said.

But a few days later, in an interview with Berlin newspaper "Tagesspiegel am Sonntag," committee chair Jagland warned of a collapse of the EU. The Nobel Committee, he said, also used the decision to point out "what's at stake."

"If the euro fails, the common market could disintegrate. Nobody knows where that would lead," he noted.

What's happened to inspiration?

Critics say the EU is not living up to the expectations of the award. Lack of help for refugees and large-scale arms sales to conflict areas are among the points of criticism. In addition, they charge the EU with failing to stop the social divide in Europe from growing. Some even ridicule the Oslo decision, such as Nigel Farage from the United Kingdom, a notorious EU critic amongst the European parliamentarians, who called the award a late "April Fool's joke."

But Farage's commens are an extreme example, and the number of those who think like European Parliamentarian Rebecca Harms from the Greens, is considerably higher. Just days after the announcement was made and right after an EU summit, she was asked about the mood there and responded in disbelief, "What happened? Why didn't we pause for a moment? Did the call by the award committee to pause and think big simply go up in smoke?"

Some will stay away on purpose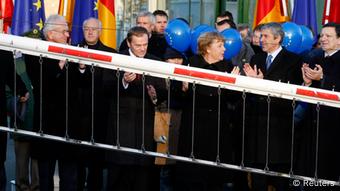 The opening of the German-Polish border in 2007
But instead of thinking big, there has been much nit-picking. The question of who would actually go to pick up the prize in Oslo caused much wrangling. Council President Van Rompuy, Commission President Barroso and President of the European Parliament Martin Schulz quickly agreed that they would all go together. But who will be first to shake the king's hand? And who will give a speech? And if all of them do, then in which order?

Another point of contention was the question of who would attend among the heads of state and governments? German Chancellor Angela Merkel said all 27 should go. French President Francois Hollande was initially only prepared to go if everybody else came. But now he's agreed to go even though there's probably only going to be two thirds of all European leaders. Nobody was really surprised to hear that euroskeptic British Prime Minister David Cameron will stay away. His Czech soul mate Vaclav Klaus will also remain in Prague Castle.

So is the European Union really a noble peace project for the world? The arguments surrounding the Nobel Prize are rather an indication of the drudgery of daily EU routine. But if you compare that routine to the circumstances when the project got started in the first place, maybe that's exactly its achievement.