The European Parliament convenes most often in Brussels, but once a month it meets in its official seat in Strasbourg, France.
Each time the approximately 800 lawmakers and their staff arrive, the town on the French-German borders sees a boom in prostitution, the German daily news Web site Tagesschau asserts.
Now, a letter signed by 37 parliamentarians -- mainly from Scandinavian countries -- is calling for the body to "only use hotels which issue a guarantee that the hotel is not involved in sex trade, and that all staff have written guidelines on this issue."
Change of mentality
"It's a serious issue," parliamentary spokesman Jaume Duch Fridau told the AFP news service earlier in the week. Fridau added that the letter had been passed on to Parliament President Hans-Gert Poettering.
If the EU agrees to the demands of the letter, it would be aligning itself with a 2006 decision by the Nordic Council, which is made up of Denmark, Finland, Iceland, Norway and Sweden. The European deputies said such a decision could help tackle the problems of prostitution, organized crime, and human trafficking.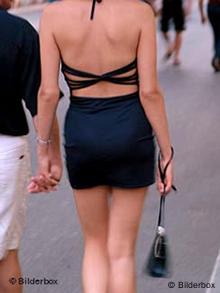 Streetwalkers are often victims of human trafficking
"It requires a change of mentality" to end the situation where you have "hotels as providers of sex trade with humans, as if they were dealing with an ordinary commodity," the letter claimed.
Organized crime was involved in "the increase in human trafficking where, for example, young women from poor countries are sold to a life as sex slaves in the prostitution industry," the letter continued.
Union of values
One of the letter's signatories, Swedish MEP Helene Goudin, said it was also necessary to ban elected MEPs and their staff from using hotels that air pornographic films in their bedrooms.
"We are against the exploitation of women in general," she told AFP. "The European Union is a union of values and we thing we should reach agreement on this subject."
The letter was not raising the question of whether or not prostitution should be made legal, according to its instigator, Danish parliamentarian Karin Riis Joergensen.
"It is simply about the fact that during the Strasburg parliamentary weeks, we don't want to go into hotels where there are prostitutes," she told Tagesschau.de. Lawmakers who want to set up parties with prostitutes should go elsewhere, she said. "But not in the same hotels with us. We just want clean hotels."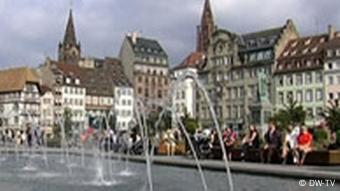 Lovely Strasbourg, surrounded by a shady ring road
The reaction to the demands has been low-key so far. Bavarian EU lawmaker Manfred Ferber told Tagesschau he was "surprised, at first, that there was such a letter."
Lawmakers worry about reputation
"I've been in the same hotel for more than 11 years and haven't noticed anything up to now," he said.
Ferber is one of many parliamentarians who worry that the uproar won't do so much to fight prostitution as it will to blemish the reputation of EU lawmakers in the eyes of their constituents.
But the fact remains that the small French city is a center for the illegal sex trade, according to Tagesschau. The site reports that a ring road that surrounds the old town is one long red-light district, populated mostly by eastern European prostitutes -- many of whom are there unwillingly.
Meanwhile, Europeans are anything but unified on how to deal with prostitution. Does it make more sense to outlaw it, like Denmark does? To limit it, like they do in France? Or do the Germans, who have legalized the trade, have the right idea? Each EU state has its own laws on the books -- making it all the more difficult to fight against human trafficking.