Ethiopian government spokesman Getachew Reda said troops were "closing in on the attackers," allegedly ethnic Murle gunmen from South Sudan who had crossed into Ethiopia's western border region of Gambela.
Reda said the assailants had abducted 108 children while also stealing 2,000 head of livestock. Cattle feuds are not uncommon in the area, but Friday's raid was larger than past incidents, said other Ethiopian officials.
Reda said the death toll from the raid had risen to 208 people killed, with 75 others wounded.
On Sunday, Ethiopian foreign ministry spokesman Tewolde Muluteg alleged that Murle gunmen had attacked the Nuer tribe - one of two main ethnic groups in South Sudan which also live across the border in Ethiopia.
"Our forces have been in pursuit of the attackers and they decimated scores of them," Muluteg said, without indicating whether troops had entered South Sudan during the pursuit.
"We don't think [the armed men] have any links to the South Sudan government or rebels," he added.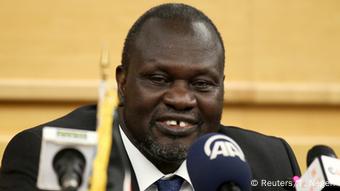 In South Sudan, 'logistical reasons' slowed Riek Machar's return to the capital
Ethiopia's Gambela region also hosts more than 240,000 refugees from South Sudan which descended into civil war in 2013 after winning independence from Sudan two years earlier.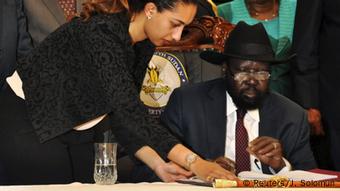 President Salva Kiir also signed last year's peace accord with Machar and his followers
Machar's return delayed
On Monday, South Sudanese rebels said the return of their leader Riek Machar to the capital Juba had been postponed 24 hours until Tuesday.
Rebel spokesman William Ezekiel told journalists waiting at Juba airport that the delay was due to "logistical reasons," adding that the rebels remained "committed" to an August 2015 peace deal also signed by President Salva Kiir.
Machar recently arrived in the South Sudanese border town of Pagak from Ethiopia. At Juba's airport on Monday a red carpet had been rolled out.
On arrival in Juba, he had been due to be sworn in as vice president alongside President Salva Kiir as a step toward forming a transitional unity government.
Machar served as Kiir's vice president after independence in 2011. The president's decision to sack him in 2013 sparked a violent power struggle.
The conflict claimed tens of thousands of lives, displaced more than two million people, and left more than five million facing food insecurity, according to the UN.
Fresh bid to end conflict
The latest intended transitional government will have 18 months to draft a new constitution.
More than 1,300 rebels troops were sent to Juba over the past month to precede Machar's intended arrival. They are due to be integrated into the army.
In turn, all but 3,420 existing government soldiers have been withdrawn from the capital. Other forces are not allowed within a 25-kilometer radius of Juba.
The UN has 11,000 peacekeeping troops in South Sudan. Many of them guard 185,000 civilians who have sheltered during the past 28 months inside UN bases to avoid feared attacks.
ipj/msh (AFP, Reuters, AP)