Turnover at Beate Uhse Group, Germany's -- and Europe's -- largest erotica company, rose 4 percent last year despite the overall sluggishness of the European retail market.
For 2005, the company's sales increased 284.4 million euros ($347.7 million), while pre-tax profits were up 31 percent to 20.4 million euros.
"It's a great result," said CEO Otto Christian Lindemann. "The company is on the right track."
Beate Uhse, which is a major brand and a name with 98 percent household recognition in Germany, is expecting 5 percent growth this year, with sales currently projected to reach 300 million euros.
Expanding eastward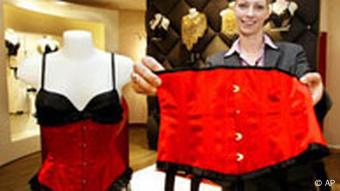 Clothes don't necessarily make the man, but can certainly be used to seduce one
Beate Uhse is also the name of the company founder, a German birth-control pioneer who single-handedly ran the business for half a century until her death in 2001, two years after the company went public. The Beate Uhse Group owns movie theaters, a mail-order business and some 300 stores in eleven countries that sell everything from toys and videos to lingerie and condoms.
With the company's net earnings increasing a staggering 65 percent in 2005 to 14.4 million euros, Beate Uhse shareholders have a good reason to celebrate. Instead of the projected 10 percent per share dividend for 2005, the company announced shareholders should now be looking forward to 14 percent instead. This will be in sharp contrast with the disappointing results of 2004, which left shareholders empty-handed.
The company intends to focus on online sales, which alone grew by 125 million euros in 2005. The Internet, with its built-in anonymity and purchase-from-home convenience, has become a major factor in the sales of erotica.
With the prospect of continued growth in 2006, Beate Uhse is also hoping to expand further on the Eastern European market.
"We want to set foot in at least two new markets," Lindemann said.
Soccer and sex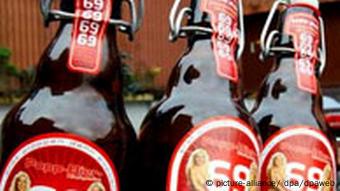 Good bye, Viagra! Hello, aphrodisiac beer!
Like many busnisses in Germany, Beate Uhse is eager to profit from the FIFA World Cup, which will be taking place in Germany between June 9 and July 9. It is difficult to predict the exact effect the soccer championship will have on the company, but Beate Uhse officials hare hoping a German victory in the finals would not only stir up athletic passions in the country, but also inspire a general lust for life.
"If we become world champions, things will really get going," Lindemann said.
According to Lindemann, big sport events are often connected with the consumption of erotica. The Beate Uhse erotic cable channel, for instance, is known for getting higher viewer ratings on Sunday evenings, in the time slot immediately following a popular sport news show on one of Germany's two public broadcasters.
Beate Uhse has recently struck a deal with a German beer maker to produce a special brand of beer called "69," which -- in addition to offering the usual joys of intoxication -- is also aimed at increasing male potency. The beer contains an extract of Muira Puama, an aphrodisiac plant from the Amazon region. When the company announced its new product in the beginning of April, an enthusiastic German tabloid ran a story about "the first beer that even women will like." It is expected that "69" will strike the right chord with testosterone-driven soccer fans this summer.