Turkish President Recep Tayyip Erdogan is lashing out at foreign diplomats for attending a politically charged court hearing against two prominent journalists facing espionage and terror charges for published news reports.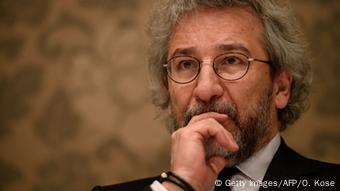 Can Dundar, Cumhuriyet newspaper's editor-in-chief
The stories and photos reportedly illustrated weapons earmarked for Syrian rebels being shipped in trucks belonging to Turkey's National Intelligence Agency.
Erdogan, who initiated the criminal complaint against the journalists last year, slammed the diplomats on Saturday during a speech to businessmen in Istanbul, in which he also threatened to restrict the envoys' freedom of movement.
"The consul-generals in Istanbul attended the trial. Who are you? What business do you have there? Diplomacy has a certain propriety and manners. This is not your country. This is Turkey," said Erdogan, who is now a co-plaintiff in the case.
"You can move inside the Consulate building and within the boundaries of the Consulate," he said during the televised speech. "But elsewhere is subject to permission."
Can Dundar, 54, editor-in-chief of Cumhuriyet, an independent newspaper with a modest circulation of little more than 50,000, and Erdem Gul, 49, who heads the paper's Ankara bureau, are facing life in prison if convicted.
Already jailed
They have already been imprisoned for 92 days, nearly half of it in solitary confinement. Last month a constitutional court judge ordered them released on the grounds that the charges against them stemmed from their work as journalists.
The case against them has generated international attention and widespread condemnation for what is widely seen as the prosecuting of journalists whose only crime was reporting the news.
Several press freedom groups and human rights organizations are calling for the case against Dundar and Gul to be dropped, while European Union officials have described the trial as a test for press freedom in Turkey.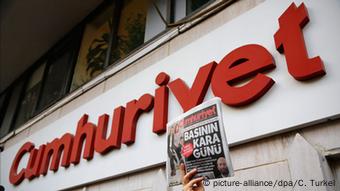 The courtroom was packed Friday with journalists, academics, and several foreign diplomats, mainly European. They left angered by the latest ruling, as the judge acquiesced to the prosecution's request and ordered the case to be moved behind closed doors for "national security" reasons when it resumes next week.
The covert arms shipment was intercepted at the Syrian border in January 2014, and the newspaper published the story last May, provoking outrage. Erdogan himself warned that Dundar would "pay a heavy price."
Pro-government newspapers portrayed the appearance of foreign diplomats in the courtroom as an "invasion."
The Daily Star screamed "Crusader unity in trucks betrayal," across its front page while Turkiye newspaper described it as "siege of consuls."
At least 13 journalists are unjustly behind bars in Turkey, according to the Committee to Protect Journalists and the European Federation of Journalists. Turkey ranks 149th out of 180 countries on the Reporters Without Borders Press Freedom Index.
bik/rc (AP, AFP, Reuters, dpa)