Local elections set for Sunday (30.03.2014) in Turkey could serve as a political seismograph for Prime Minister Recep Tayyip Erdogan. Around 53 million Turks will vote then on candidates for mayor and for regional parliaments - simultaneously signaling how much support their controversial prime minister and his party, the AKP, still enjoy. How Erdogan will fare in upcoming elections will be decided in no small part by Istanbul and its 15 million residents.
The AKP has cause for concern if it cannot hold on to Istanbul, but the party is once again expected to emerge a winner this weekend. However, experts predict the AKP will take 35 to 45 percent - a major slump in comparison with previous parliamentary elections. Erdogan's image has suffered in recent months. That's true in Turkey as well as among the Turkish diaspora.
Traditionally high support
Around three million German-Turkish people live in Germany, and they form an important bloc for the Turkish prime minister. Around half of them are eligible to vote in Turkey's elections. While they cannot take part in local elections this weekend, they will be able to help decide the country's president this summer. Polling stations are planned for Turkey's consulates in Germany.
Erdogan recognizes the significance of German-Turkish voters. About two months ago, he made a trip to Germany during which he campaigned in the midst of a crisis at home.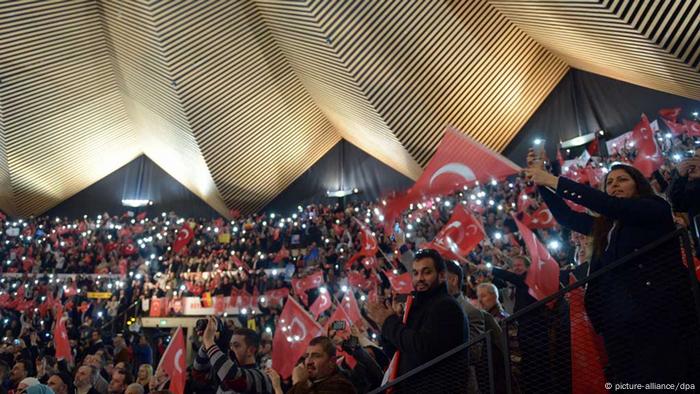 Hundreds celebrate Erdogan during one of his trips to Berlin
He has long been able to count Turkish citizens living in Germany as strong supporters. "Erdogan is more popular in Germany than he is in Turkey," said Kenan Kolat, the federal chair of the Turkish Community interest group in Germany. During the most recent parliamentary election, Erdogan raked in 10 percent more of the votes among German-Turks than he did at home. One reason for the show of support is that the prime minister has showed frequent interest in Turks living in Germany, and he has also taken up their concerns.
His last visit to the German capital drew thousands of cheering supporters under the motto, "Berlin Meets the Great Master."
Man from the middle
Erdogan's unprivileged background is another reason for his success. As the son of a boat captain, he is seen as a person from the Turkish middle class, which is received well among Germany's Turkish immigrants who hail from rural parts of their country.
"In Turkey - particularly in rural regions, which is where those in the German diaspora hail from - people feel very close to him," said Gulay Kizilocak of the Center for Studies on Turkey and Integration Research (ZfT). "He has made people from rural Turkey 'socially respectable,'" he added.
Erdogan has been able to draw in support from liberal-leaning voters, too, thanks to his reputation as a reformer and his pursuit of EU membership. "Everyone can easily identify with him," Kizilocak said.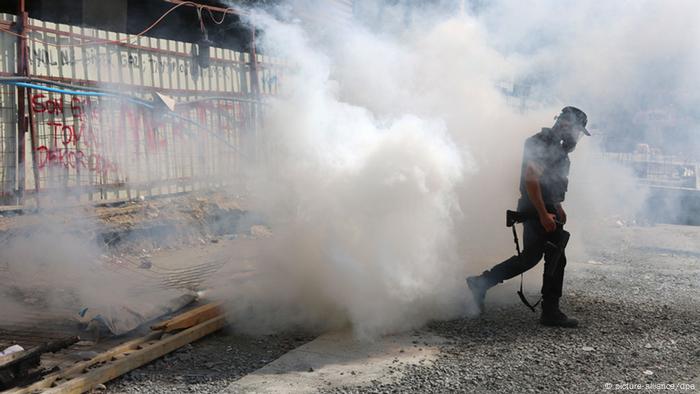 A crackdown on protesters in Turkey riled Germans
But the conservative politician has suffered blows to his reputation, due in part to the severity of his reaction to protesters in Gezi Park. Clashes between police and demonstrators that unfolded there outraged many in Germany - as well as elsewhere - and led to protests. Numerous prominent German-Turks, including the Green party politicians Cem Ozdemir and Memet Kilic, appealed to Erdogan in an open letter to stop the violence.
Tarnished image
In the wake of his controversial handling of the Gezi Park protests, corruption allegations are now plaguing the prime minister. Telephone recordings purportedly including the politician emerge nearly daily online. Erdogan says he is the victim of a plot driven by an opposition movement headed by the Islamic cleric Fetthulah Gulen.
In response to the corruption scandal, Erdogan dismissed police officers, judges and lawyers considered to be supporters of Gulen. Soon thereafter, he also tried to stop their spread by blocking Twitter and YouTube.
"These developments in Turkey are being viewed in a mixed way in Germany," Kizilocak said. "There's a segment of his followers, including those in the religious spectrum, who have turned away politically. They're not to be underestimated. That's also felt in Germany."
Kolat agreed that Erdogan has lost some of his supporters in Germany. However, he adds, the prime minister can still look forward to "very big support" within the German-Turkish bloc.